Подача статей





Galeeva F.S., Gabdrakhmanov L.M., Karlova E.V., Nikiforova E.B.
ORGANIZATION OF THE HELP TO PATIENTS WITH GLAUCOMA IN THE SAMARA REGION
Glaucoma is the leading cause of blindness and visual disability in Russian Federation. The organization of public healthcare system for glaucoma patients in Samara region was developed over the last decade. In conditions of primary eye care shortage Regional glaucoma center, Health centers and Mobile eye care offices create new opportunities of early case finding and treatment of glaucoma patients. This article is intended to analyze the main indicators of glaucoma in the region over the last six years: morbidity, case-finding activities, disability, quantity of surgical and laser procedures and others. Hypotensive laser surgeries performed in Mobile eye care offices are also discussed. In general, the their work not only allowed to perform a greater number of laser procedures for glaucoma in 2013, but almost two times increased the incidence of this disease among the examined population. Thus, the work with glaucoma patients is an important part of eye care system, which afforded to achieve stabilization or positive dynamics of basic indicators in the last six years.
Key words:
glaucoma, epidemiology, morbidity, case-finding activities, disability, free glaucoma medication.
References:
1. Shevchenko, M. Regional model of antiglaucoma health activities / M. Shevchenko, E. Karlova // Congress of Ophthalmologists of Russia, 8-th. Abstract book. — M., 2005. — P.72–73.
2. Glaucoma. National Guidelines / Ed. by prof. Egorov E.A. — Moscow, 2013. — 818 p.
About this article
Author:

Karlova E.V.



Year:

2014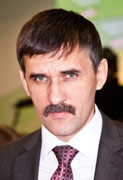 Editor-in-chief
Sergey Aleksandrovich
MIROSHNIKOV