Подача статей





Burkhanov U.K., Usubov E.L.
FEMTOSECOND LASER-ASSISTED CATARACT SURGERY
The study involved 199 patients (199 eyes) with cataracts. The main group — 95 patients (95 eyes) underwent femtolaser-assisted cataract surgery with IOL implantation. In the control groupe– 104 patients (104 eyes) — performed standard ultrasound phacoemulsification with IOL implantation. Energy performance of ultrasound during phacoemulsification were lower in group underwent of femtosecond laser surgery, and the difference between the groups used ultrasound decreased with the growth of the density of the lens. In the main group the better visual acuity was observed in earlier periods — 1 week after surgery, and in the control group — after 1 month. The use of the femtosecond laser in cataract surgery reduces the energy performance of ultrasound up to 35 % during the phacoemulsification, achieve of high visual acuity in patients in the early postoperative period and maintance of a stable visual functions, regardless of the density of the lens nucleus.
Key words:
cataract phacoemulsification, femtosecond laser.
References:
1. Femtolasers support cataract surgery / S.Yu. Anisimova [et al.] // Metodicheskoe posobie. — M., 2013. — P. 15.
2. Results femto laser cataract surgery using the platform VICTUS / M.M. Bikbov [et al.] // Collected scientific works "Modern technologies in cataract and refractive surgery". — M., 2013. — P. 40.
3. Edwards, K. The effect of laser lens fragmentation on use & of ultrasound energy in cataract surgery [Electronic resource] / K. Edwards, H.S. Uy, S. Schneider // Association for Research in Vision and Ophthalmology Annual Meeting. A4710 Poster #D768. Fort Lauderdale, FL. — 2011. — Access mode: www.arvo.org.
4. Nagy, Z. Initial clinical evaluation of an intraocular femtosecond laser in cataract surgery / Z. Nagy, A. Takacs, T. Filkorn [et al.] // J. Refract. Surg. — 2009. — Vol. 25. — P. 1053–1060.
About this article
Author:





Year:

2014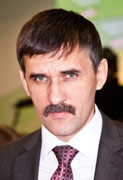 Editor-in-chief
Sergey Aleksandrovich
MIROSHNIKOV