Подача статей





Arlanova Т.I.
A CASE OF ACUTE POSTERIOR MULTIFOCAL PLACOID PIGMENT EPITHELIOPATHY
Description of a rare inflammatory disease — an acute posterior multifocal placoid pigment epitheliopathy, its diagnostics. This relapsing disease is well stopped by corticosteroids. According to the literature uncomplicated cases do not need treatment, the process is stopped independently in 2–3 weeks. Often this is a two-way process; clinical aspects on the second eye can join in a few years. The disease is often associated with other somatic pathology.
References:
1. Katsenelson, L.A. Vascular diseases of the eye / L.A. Katsnelson, T.I. Forofonova, A.Ya Bunin. — Moscow. — Medicine. — 1990. — 270 p.
2. An acute posterior multifocal placoid pigment epitheliopathy / F.E. Shadrichev [et al.] // Ophthalmic Journal. — Volume III. — №2. — 2010. — P. 91–97.
3. Schuko, A.G. Optical coherence tomography in the eye disease diagnostics / A.G. Schuko, V.V. Malysheva. — GEOTAR-Media. — 2010. — 128 p.
4. Cohen, Solomon-Yves Fluorescein angiography in the diagnostics of the ocular fundus pathology / Solomon-Yves Cohen, Gabriel Kvintel ; translated from French by Grinstein M.P. ; under the General editorship of Neroev V.V., Ryabina M.B. — 320 P.
About this article
Author:





Year:

2014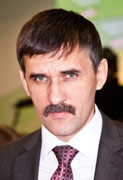 Editor-in-chief
Sergey Aleksandrovich
MIROSHNIKOV