Подача статей





D'Alessandro C., Psarianos V.
THE TEMPUS PROJECT HDMCURF: QUALITY ASSURANCE PROCEDURES
This paper presents the Quality Assurance process developed in the framework of the project "HDMCuRF — Highway Design and Management: Curricular Reform for Russian Federation Design and Implementation of Higher Education Master Courses in Russia" funded by the Education, Audiovisual and Culture Executive Agency (EACEA) of the European Commission within the framework of the TEMPUS IV program. The project supported the transfer of EU higher education best practices in Highway Design and Management to develop advanced university courses to train competent resources in Russian Universities. The project made available, to Russian Universities, knowledge, management approaches, modelling and assessment techniques which are adapted and taken over by the Russian higher education system. Those best practices are based on the principles of the European Credit Transfer System and the recognition of the university degree. The EU participants shared best practices, training management and quality assurance approaches according to the Bologna principles and in line with Level 7 of the European Qualification Framework to support the development and diffusion of an innovative experience in technical higher education in Russian institutions supporting the capacity and knowledge building in highway design and management.
Key words:
Quality Assurance, European Qualification Framework, Master course, learning outcomes, TEMPUS program, Russian Federation.
References:
1. ENQA — European Association for Quality Assurance in Higher Education, (2009). Standards and Guidelines for Quality Assurance in the European Higher Education Area, http://www.enqa.eu/pubs.lasso
2. European Parliament and the Council of the European Union, (2008). Recommendations of the European Parliament and of the Council of 23rd April 2008 on the establishment of the European Qualification Framework for Lifelong Learning. Official Journal of the European Union, Clll, pp.1-7
3. European Commission, Education and Culture, (2008). The European Qualifications Framework for Lifelong Learning (EQF). DOI 10.2766/14352
About this article
Author:

Rsarianos V.



Year:

2014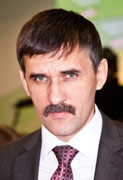 Editor-in-chief
Sergey Aleksandrovich
MIROSHNIKOV