Подача статей





Meleshenko O.I., Konovalova T.V.
EVALUATING THE EFFECTIVENESS OF THE TRANSPORT SERVICE OF PRODUCTION OF AGRICULTURAL ENTERPRISES
The article describes the performance evaluation of transport service of production of agricultural enterprises proposed method estimates the efficiency of transport service of production of agricultural enterprises allows control with minimal cost of transport and logistics activities of any enterprise of agriculture, quickly adjust production process and consequently, increase profits.
Key words:
transportation, transportation and logistics activities, logistics system, method of evaluation of efficiency, the integral index, the weighting factor, comprehensive indicator.
References:
: 1. Balakina, Y.Y. Evaluation of economic efficiency of new forms and methods of transport services on the basis of innovation: Dis. cand. econ. sciences: 08.00.05 / Y.Y. Bakulina. — St. Petersburg, 2006. — 210 p.
2. Navrotskaya, N.A. Transformation of investment and production space as a condition of economic integration / N.A. Navrotskaya, N.Yu. Sopilko // Issues of Regional Economics. — 2013. — V. 15. — № 2. — P. 63–69.
3. Aksenov, I.A. Methodology of comprehensive evaluation of the effectiveness of innovative development of the transport system / I.A. Aksenov // Economics and Entrepreneurship. — 2014. — № 1–2. — P. 358–365.
4. Buklagina, G.V. Improving the efficiency of the system of regional transport service AIC (on materials of Stavropol Territory) / G.V. Buklagina // Engineering and technical support agribusiness. Refereed journal. — 2003. — № 1. — P. 304.
5. Landsman A.Ya. Risks and sustainability of financial services in transport / A.Ya. Landsman // Transportation business in Russia. — 2014. — № 1. — P. 64–66.
About this article
Authors:

Meleshchenko O.I., Konovalova T.V.



Year:

2014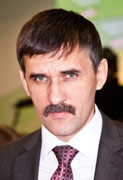 Editor-in-chief
Sergey Aleksandrovich
MIROSHNIKOV