Подача статей





Vitvitsky E.E., Trofimova L.S.
THE APPROACH TO DETERMINE THE CURRENT ACTIVITIES OF THE TRANSPORT ENTERPRISES TAKING INTO ACCOUNT THE PRACTICES OF ROLLING STOCK
Description of practice for the operation of rolling stock has allowed formulating the approach to determine the current activities of the motor company, as a complex system consisting of subsystems — commercial exploitation and technical maintenance, which is carried out as a single entity to fulfil the conditions of the contract.
Key words:
rolling stock, motor transport enterprise, the system approach, commercial exploitation, technical maintenance.
References:
1. Bychkov, B.N. Business activities in road transport: transport and auto service: the manual / B. N. Bychkov. — 2-nd ed., rev. and suppl. — M: Academic Project; Kirov: Constant, 2009. — 573 p.
2. Vasilieva, E.M. Optimisation of planning and management of transport systems / E.M Vasiliev, P.W. Igudin, V.N. Livshits and others; ed. by V.N. Livshits. — M.:Transport, 1987. — 208 p.
3. Velmozhin, A.V. Technology, organization and management of freight transport by road: the textbook for high schools / A.V. Velmozhin, V.A. GUDCov, L.B. Mirotin. — 2-nd ed., supplemented. — Volgograd: Volgogr. state technology. University, 2000. — 304 p.
4. Verkhovsky, I. Road transport in the ninth five-year plan / I. Verkhovsky // Road transport. 1971. — №4. — P. 1.
5. Geronimus, B.L. Improve the planning of motor transport / B.L. Geronimus. — M.: Transport, 1985. — 222 p.
6. Gorev, A.E. Freight transport by road: textbook for students / A.E. Gorev. — 2-nd ed., erased. — M.: Publishing center "Academy", 2004. — 288 p.
7. Kantorovich, L.V. Problems of effective use and development of transport / L.V. Kantorovich, N.V.Pajenson, E.F. Tikhomirova; ed. by V.N. Livshits. — M.: Nauka, 1989. — 304 p.
8. Kartashov, V.P. Development of production-technical base of motor transport enterprises / V.P. Kartashov. — M.: Transport, 1991. — 151 p.
9. Kuznetsov, E.S. Production base of motor transport: state and prospects / E.S. Kuznetsov, I.P. Kurnikov. — M.: Transport, 1988. — 231 p.
10. Kurganov, V.M. Management of road transport on the basis of the situational approach: dis.... doc. techn. sciences: 05.22.08 / Valery Maksimovich Kurganov. — M., 2004. — 326 p.
11. Livshits, V.N. System analysis of economic processes in transport: monograph / V.N. Livshits. — M.: Transport, 1986. — 240 p.
12. Lukinsky, V.S. Logistics road transport: concepts, methods, models / V. S. Lukinsky, V. I. Berezhnoi, E.V. Berezhnaya, I.A. Tsvirinko. — M.: Finance and statistics, 2002 — 280 p.
13. Mandritsa, V.M. Forecasting of cargo transportation by automobile transport / V.M. Mandritsa, V.N. Kraev. — M.: Transport, 1981. — 152 p.
14. Mandritsa, V.M. Improved management, analysis and planning of the work of motor transport enterprises / V.M. Mandritsa. — M.: Transport, 1977. — 232 p.
15. Migachev, V.A. Improving the efficiency of freight cars on the basis of the choice of the most rational rolling stock: dis...doc. techn. sciences: 05.22.10. / Victor Anatolevich Migachev. — Penza, Ulyanovsk, 2012. — 137 p.
16. Nikolin, V.I. Scientific bases of perfection of the theory of road freight transport: dis.... doc. techn. sciences: 05.22.10. / Vladimir Ilyich Nikolin. — M., 2000. — 343 p.
17. Ulitskay, M.P. Organization, planning and management in road transport enterprises: textbook for universities / M.P. Ulitskay, K.A. Savchenko-Belsky, N.F. Bilibin, etc.; ed. by M.P. Ulitskaya. — M.: Transport, 1994. — 328 p.
18. Constitution of road transport of the RSFSR: appr. Transportation Ministry of the RSFSR of 30 July 1971, in coordination with the state planning Committee of the RSFSR and the state Arbitration of the Russian Federation. — M.: Ministry of transportation of RSFSR, 1971. — 177 S.
19. Federal law of the Russian Federation on November 8, 2007 N 259-FZ "Charter of road transport and urban land-electric transport". — M.: Consultant, 2008 — 25 p.
About this article
Authors:

Vitvitskiy E.E., Trofimova L.S.



Year:

2014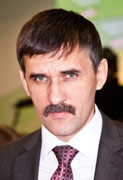 Editor-in-chief
Sergey Aleksandrovich
MIROSHNIKOV