Подача статей





Mullagulov R.U.
GENETIC DIVERSITY OF POPULATIONS OF RARE PLANT SPECIES OF THE SOUTHERN URALS
Population genetic structure of seven rare and endangered plant species of the Southern Urals is investigated by using isozyme markers. The studied taxa revealed relatively weak differentiation among populations and relatively large differences in levels of genetic diversity. Analyses of gene pools are necessary to develop species-specific measures for conservation of this category of plants in natural habitats.
Key words:
rare and endangered plant species, the Southern Urals, populations, genetic structure, isoenzyme markers.
References:
1. Melekhova, O.P. Biodiversity Conservation in Industrial and Urban areas / O.P. Melekhova // Biodiversity Conservation and Restoration. — Moscow: Publishing House of Scientific and Educational Center, 2002. — 286 p.
2. Genetics of Isoenzymes / L.I.Korochkin [et al.]. — M.: Nauka, 1977. — 275 p.
3. Yeh, F.C. POPGENE Version 1.32: Microsoft Windows — Based Freeware for Population Genetic Analysis / F.C. Yeh, R. Yang, T. Boyle. — Univ. of Alberta, Center of Int. Forestry Res. — 1999.
4. Wright S. Genetics of Populations // Encycl. Brit. — 1948. — V. 10. — 111 p.
5. Differentiation among Populations of Rhodiola iremelica Boriss (Crassulaceae) in the Southern Urals / Yu.A. Yanbaev [et al.]// Russian journal of Genetics. — 2007. — V. 11. — P. 1314–1318.
6. The Red Book of the Republic of Bashkortostan: in 2 volumes. Vol.1: Plants and Mushrooms / Ed. Dr. biol. sci., professor B.M.Mirkin. — 2nd ed., supplemented. –Ufa: MediaPrint, 2011. — 384 p.: illustrations.
7. Hybrid Peony (Paeonia hybrida Pall.), a Rare Endangered Plant of Bashkir Trans-Uralian Region: Autocorrelation Analysis of the Spatial Genotype Distribution under Different Environmental Conditions / N.N. Redkina [et al.] // Contemporary Problems of Ecology. — 2008. — Vol. 6. — P. 707–711.
About this article
Author:

Mullagulov R.Yu.



Year:

2014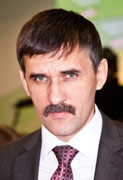 Editor-in-chief
Sergey Aleksandrovich
MIROSHNIKOV