Подача статей





Gusakova V.O.
DISCIPLINE IS THE TRADITIONS OF THE STRUCTURE OF MILITARY EDUCATIONAL INSTITUTIONS. TO A QUESTION ABOUT MOLDING OF THE SPIRITUAL– MORAL QUALITIES OF THE PERSONALITY OF THE DEFENDER OF THE FATHERLAND
In the article the optimum sociocultural educational models, characteristic for the military educational institutions are examined; are compared concepts "of obedience" and "disciplines", characteristic for ancient Russia and Russia new time, are analyzed — "patriotism" and "self-sacrifice", are differentiated — "civil" and "military duty".
Key words:
discipline, structure, one-man management, tradition, the association, identity.
References:
1. Antonius Surozhskiy, metropolitan. Men. — M.: Fund "spiritual heritage of metropolitan Antonius Surozhskiy". — 2012. — 384 s.
2. Bulgakov S. N. Light Of nevecherniy: Contemplations and speculation. — M.: Republic. — 1994. — 415 s.
3. Gessen S. I. Bases of pedagogy. Introduction into the applied philosophy. — M.: School– press. — 1995. — 448 s.
4. Glinka V. F. Russian military suit XVIII — began XX of century. — L.: Artist of the RSFSR. — 1988. — 240 s.
5. Dal V. I. The explanatory dictionary of living Great Russian language. In four volumes. — M.: The Russian language. — 2002. — T. THE II. — 780 s. — T. IV. — 686 s.
6. Kolesnikova I. A. Pedagogical reality in the mirror of mezhparadigmalnoy reflection. — St. Petersburg: SPbGUMP. — 1999. — 242 s.
7. Concept of spiritual and moral development and training of the personality of the citizen of Russia // Danelyuk A.I., Kondakov A.M., Tishkov V.A. — M.: Education. — 2009. — 24 s.
8. Decision by SNK USSR and TsK the VKP(b) on August 21, 1943. "about the pressing measures for the restoration of economy in the regions, freed from the German occupation. URL: http://www.kadet.ru/doc/SNK_SSSR_210843.htm (the date of the rotation: 25.03.2013).
9. Suvorov A.V. Regimental establishment // Not by the quantity, but by skill. Military system A.V. Suvorov/ Savinkin A.V., Domnin I.V, Belov G.T. — M.: Military university, Russian way. — 2001. — 616 s.
About this article
Author:

Gusakova V.O.



Year:

2014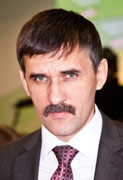 Editor-in-chief
Sergey Aleksandrovich
MIROSHNIKOV