Подача статей





Kochukova A.A., Ryabinina Z.N., Sankov A.N.
THE DEPENDENCE OF THE MAIN INDICATORS OF THE QUALITY OF THE MEDICINAL PLANT RAW MATERIAL "TANSY FLOWERS" (FLORES TANACETI) FROM THE BIOMETRIC PARAMETERS OF THE PLANT (TANACETUM VULGARE), GROWING ON THE TERRITORY OF THE ORENBURG REGION
Studies show the dependence of the accumulation of biologically active substances from the General state of plants and conditions of its growth. For greater availability of the study were selected plant that grows everywhere нетребовательное to care and is easy to cultivation — Tanacetum vulgare L.
Key words:
Tanacetum vulgare L., medicinal plants, biometrics, vegetable raw materials.
References:
1. State Pharmacopoeia of the USSR. Eleventh edition. V.2.-M: Medicine, 1990, 400 P.
2. GOST 24027.2-80 medicinal vegetative Raw material. Methods for determination of moisture content, ash content, extractive and tanning substances, essential oils.
3. Ministry of Agriculture General Directorate chemicalization with Goskhimkomissiey CINAO RF Ministry of Agriculture // Guidelines for the determination of heavy metals in feed and plants and their mobile compounds in soils. Moscow, 1993.
4. Ryabinina Z.N. Synopsis of flora of the Orenburg region. Ekaterinburg: Ural branch of RAS, 1998.
5. Ryabinina Z.N., Knyazev M.S. vascular plants of the Orenburg region. — M: Partnership of scientific publications KMK, 2009. — 758 P.
6. Sankov A.N. Medicinal herbs Orenburg. Orenburg, 2001, 349 P.
7. Tyurin E.V., Izrailson V.F., Guskova I.N. Cultivation of medicinal plants in the garden. The Novosibirsk book publishing house, 1992.
About this article
Authors:

Kochukova A.A., Ryabinina Z.N., Sankov A.N.



Year:

2014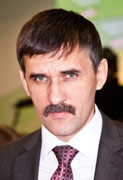 Editor-in-chief
Sergey Aleksandrovich
MIROSHNIKOV