Подача статей





Kharkovskiy А.A., Mikheev V.A.
SEASONAL DYNAMICS OF FISH HAULS IN THE CHEREMSHANGULF OF THE KUIBYSHEV RESERVOIR
The data on the seasonal changes in fish catches in are presentedCheremshan Gulf of Kuibyshev reservoir and depending on the abiotic factors of the environment. The seasonal dynamics of hauls for 2008–2010 is studied. It is most noticeably for bream, roach and perch due to their high abundance and seasonal changes in trophic base.
Key words:
Kuibyshev reservoir, ichthyofauna, hauls, dominant species, season dynamics.
References:
1. Gainiev S.S. Reproduction and growth of juveniles of some commercial fish species in the first year of the Kuybyshev water reservoir." Works. ТаtGоsNIORH. — Kazan, 1958. — 2. — Vol. 1. — P. 58-69.
2. Kuznetsov V.A. Fish Volga-Kama region. — Kazan: Каzan-Kazan, 2005. — 208 S.
3. Lukin A.V. First years of existence of the Kuybyshev water reservoir, " Works. ТаtGоsNIORH. — Kazan, 1959. — 302 pp.
4. MikheevV.A., Aleev F.T., Nazarenko V.A.A Brief overview of the ichthyofauna of the Ulyanovsk region / the Nature of the Simbirsk-Volga region. — Ulyanovsk, 2004. — Vol. 5. — P. 97-101.
5. Nazarenko V.A., Gainiev S.S. Cheremshanskyples. — Ulyanovsk,2001. — 63 pp.
6. Osipova Century B. Carp in the Kuybyshev water reservoir in Russian. — M, 1975. — №11. — P. 24-25.
7. Pravdin I.F. Guide for the study of fish. — M: Food industry, 1966. — 226 pp.
8. Chikova V.M. State of the spawning herds and reproduction of fish in Черемшанском Gulf of Kuibyshev reservoir. — Leningrad, 1966. — P.29-45.
About this article
Authors:

Harkovskiy A.A., Miheev V.A.



Year:

2013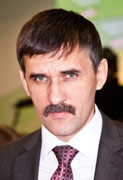 Editor-in-chief
Sergey Aleksandrovich
MIROSHNIKOV