Подача статей





Seryakova R.E., Seryakov S.V., Alferov I.N.
METHODOLOGICAL PECULIARITIES OF ECOLOGIZED DEVELOPMENT OF NATURAL AREAS IN TECHNOGENESIS (FOR THE STUDY OF TOMSK LEFT BANK)
In this article the methodological approaches of land use planning in areas with a high degree of intensity of the interaction of natural and manmade complexes were developed. Unique hydrological, geo-ecological and geological features of the Tom river left bank within the Tomsk were considered. In terms of ecologized land use planning, most rational form of use of this territory was concluded.
Key words:
ecologization, land use planning, technogenesis, natural and territorial complex, groundwater, spring zone.
References:
1. Shulgin, A.V. Improvement of innovation activities through public-private partnerships: thesis abstract. PhD in Economics / A.V. Shulgin. — Voronezh, 2011. — 24 p.
2. Ecology of the geological environment: study guide / V.N. Gubin [at al.]. — Mn.: BSU, 2002. — 120 p.
3. Tsibulnikova, M.R. Economic and geographic aspects of optimization of territorial management nature use during the transition to sustainable development (the Ob — Tomsk interfluve, Tomsk region): thesis abstract. PhD in Geography / M.R. Tsibulnikova. — Tomsk, 2002. — 23 p.
4. Popov, V.K. Land use planning ecologization of urbanized areas in Tomsk: status and problems / V.K. Popov, S.V. Seryakov, R.E. Khafizova // Journal of TSUAB. — 2013. — № 2. — P. 337 — 345.
5. Vertman, E.G. The study of hydrodynamic and hydro chemical regime of Tomsk's springs: a report on work performed for government contracts № 2-RT-2003/31 of 16.03.2002 and № 26 from 14.05.2004 with the "Tomskinvestgeoneftegaz" / E.G. Vertman, A.D. Nazarov. — Tomsk.: TPU. — 2004. — 199 p.
About this article
Authors:

Alfyorov I.N., Seryakova R.E., Seryakov S.V.



Year:

2013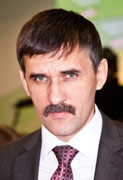 Editor-in-chief
Sergey Aleksandrovich
MIROSHNIKOV