Подача статей





Ryabukha A.G.
THE ANCIENT EOLIAN SAND DUNES OF SUHORECHENSK ARRAY
On the example of Suhorechenskogo sandy array studied drevneeolovye fixed form accumulative relief — parabolic dunes, the regularities in the location of the morphology and orientation of the dunes.
Key words:
aeolian processes, parabolic dunes, periglacial conditions, deflation basins.
References:
1. Drenova A.N. Dyunoobrazovanie as an indicator of the natural processes of periglacial zone of the East European Plain: For example, between the Oka and Klyaz'ma: Dis. ... Candidate. of geographical. Sciences: Moscow, 2000. — 148 p.
2. Markov K.K. ancient inland dunes in Europe // Essays on the geography of the Quaternary period. — Moscow: Publishing House of the USSR Academy of Sciences, 1955. — Pp. 1-28.
3. Nikolaev V.A. Asian steppe landscapes. — Moscow: Moscow State University Press, 1999. — 288.
4. Nikolaev V.A. Memory terrain // Bulletin. Mosk. Univ. Ser. 5. Geography. — 2013. — № 1. — S. 17-21.
5. Shchukin IS General geomorphology. V.1. — Moscow: Moscow State University Press, 1960. — 615
About this article
Author:

Ryabuha A.G.



Year:

2013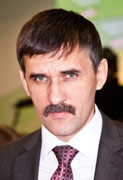 Editor-in-chief
Sergey Aleksandrovich
MIROSHNIKOV