Подача статей





Izotov B.A.
ON THE TRANSFORMATION OF BOUNDARIES BETWEEN FOREST AND FOREST-STEPPE GEOGRAPHICAL ZONES UNDER CLIMATE CHANGE
The analysis of spatial distribution of forest stands in azimuthal directions of slopes with digitization 1 and 45?, accordingly on 360 sectors and on 8 sectors of a full corner.
Key words:
distribution of relief items stocked, dynamics of forest stands, snow cover, temperature effects.
References:
1. Leica Geosystems, 2005. ERDAS Field Guide, http: // www.leica-geosystems.com.
2. Taylor, J.R. An Introduction to Error Anylysis, Mill Valley, University Science Books / J.R. Taylor., 1982.
3. Holtmeier, F.-K. Sensitivity and response of the Northern Hemisphere altitudinal and polar treelines to environmental change at landscape and local scales, Global Ecology and Biogeography / F.K. Holtmeier., G. Broll — vol. 14, 2005. pp. 395–410.
4. Kullman, L. Holocene pine tree-line evolution in the Swedish Scandes: recent tree-line rise and climate change in a longterm perspective, Boreas / L. Kullman., L. Kjallgren — vol. 35, 2006. pp. 159–168.
5. Kharuk, V. I. Expansion of evergreen conifers to the larch-dominated zone and climatic trends, Rus. J. Ecology / V. I. Kharuk., M. L. Dvinskaya., K.J. Ranson., S.T. Im — vol. 36, No. 3, 2005. pp. 164–170.
6. Shiyatov, S. G. Altitudinal and horizontal shifts of the upper boundaries of open and closed forests in the Polar Urals in the 20th century, Rus. J. Ecology / S. G. Shiyatov, M. M. Terent'ev., V. V. Fomin., N. E. Zimmermann — vol. 4, No. 38, 2007. pp. 223–227.
7. Batllori, E. Seedling recruitment, survival and facilitation in alpine Pinus uncinata tree line ecotones. Implications and potential responses to climate warming, Global Ecology and Biogeography / E. Batllori., J Camarero., J. Ninot., E. Gutierrez — vol. 18, No. 40, 2009. pp. 460–472.
8. Devi, N. Expanding forests and changing growth forms of Siberian larch at the Polar Urals treeline during the 20th century, Global Change Biology / N. Devi, F. Hagedorn., P. Moiseev., H. Bugmann., S. Shiyatov — vol. 14, No. 7, 2008. pp. 1581–1591.
9. Korner, C. The green cover of mountains in a changing environment, in: Advances in Global Change Research, Global Change and Mountain Regions, / U. M. Huber, H. K. M. Bugmann, M. A. Reasober (eds.), Dordrecht, Springer — vol. 23, 2005. pp. 367–375.
10. Kharuk, V.I. Response of Pinus sibirica and Larix sibirica to climate change in southern Siberian alpine forest-tundra ecotone, Dcandinav. J Forest Res., / V. I. Kharuk., K. J. Ranson., S. M. Im., V. L. Dvinskaya — vol. 24, No. 2, 2009. pp. 130 — 139.
About this article
Author:

Izotov B.A.



Year:

2013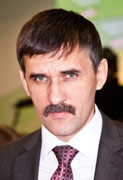 Editor-in-chief
Sergey Aleksandrovich
MIROSHNIKOV