Подача статей





Izotov B.A.
POSSIBLE WAYS OF DEVELOPING THE ECOSYSTEM OF THE SOUTHERN URALS UNDER DIFFERENT SCENRIOS OF GLOBAL CLIMATE
Studying of response natural ecosystems land and ecological complexes, on change of a climate by methods of monitoring and modelling.
Key words:
ecosystem, phenological models, methods, parameters.
References:
1. Kupriyanova, M.K. Phenological supervision in vneklassovoj to study of local lore work: the Manual for teachers biology, geography, natural sciences and natural study of high schools, Ekaterinburg, Bank of the cultural information / M. K. Kupriyanova., Y.I. Novozhenov, Z.G. ShChennikov — 2000. pp. 244.
2. Sokolov, L.V. Influence of global warming of a climate on terms of migration and nesting of sparrow birds in XX century, zoological magazine. / L.V. Sokolov — т. 85, №3, 2006. pp. 317-341.
3. Sigalev, А.А. Seasonal development of the nature of European part ССР / A.A. Љigalev, А. P., Љimanыk — Географгиз, 1949. 240 p.
4. Moiseyev. Estimating the carbon balance of central Siberia using a landscape-ecosystem approach, atmospherick inversion and Dynamic Global Vegetation Models, Global Change Biology / Moiseyev — vol. 17. 2007. pp. 351-365.
5. Schuur, E. The effect of permafrost thaw on old carbon release and net carbon exchange from tundra, Nature / E. Schuur., J. Vogel., R. Crummer., H. Lee., J. Sickman., T. Osterkamp — vol. 459. 2009. No. 7246, pp. 556–559.
6. Garratt J. R. Limitations of the eddycorrelation technique for the determination of turbulent fluxes near the surface, Boundary Layer Meteorology, J. Garratt — vol. 8. 1975. pp. 255–259.
7. Constantin, J. Carbon dioxide fluxes at the forest floor determined with the eddy correlation technique, Physics and Chemistry of the Earth / J. Constantin., K. Morgenstern., A. Ibrom., G. Gravenhorst — vol. 21. 1996. No. 5–6, pp. 415–419.
8. Xiao, J. Estimation of net ecosystem carbon exchange of the conterminous United States by combining MODIS and AmeriFlux data, Agr. and Forest Meteorol / J. Xiao., Q. Zhuang., D. Baldocchi., B. Law., A. Richardson., J. Chen — vol. 148. 2008. No. 11, pp. 1827–1847.
9. Xiao, X. Satellite-based modeling of gross primary production in an evergreen needle-leaf forest, Remote Sensing and Environment / X. Xiao., D. Hollinger., J. Aber., V. Goltz., E. Davidson — vol. 2009. 89, pp. 519–534.
10. Kullman, L. Tree line population monitoring of Pinus sylvestris in the Swedish Scandes, 1973–2005: implications for tree line theory and climate change ecology / L. Kullman L., J. Ecology — vol. 95. 2007. pp. 41–52.
About this article
Author:

Izotov B.A.



Year:

2013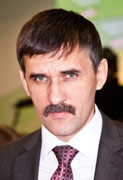 Editor-in-chief
Sergey Aleksandrovich
MIROSHNIKOV