Подача статей





Pirogova I.N., Ermakova O.Y.
ASSESSMENT LEVEL CONTAMINATED FLOODPLAIN SOILS AS A RESULT OF YEARS OF EXPOSURE OBJECTS PRODUCTION AND PROCESSING
The soil of floodplains have both agricultural and industrial load. One of the ways of industrial pollution floodplain soils territory is ONGKM vapor deposition, aerosols, dust and pollutants dissolved compounds from the atmosphere with precipitation.
Key words:
soil cover, soil fertility evaluation.
References:
1. Savich, V.I. Evaluation of soil / H.A. Amergushev — Astana, 2003.– P. 544.
2. Dobrovolsky, G.V. Soil Ecology / E.D. Nikitin. — Moscow: M.S.U., 2006. — P. 413.
3. Mikhaleva A.E. On Pollution of wetlands and its prevention / International scientific / Practical conference "The Role of Environmental Engineering in the sustainable operation and development of ecosystems" / M.S.U. of Environmental Engineering, Moscow, 2006 — P. 296-299.
4. Construction of the middle gas-oil deposits of the Orenburg gas condensate field: engineering and environmental studies / VolgoUralNIPIgaz; hands I.E Kleimenova; executed Belikova N.G. — Orenburg, 2009. — P.143.
About this article
Authors:

Ermakova O.Yu., Pirogova I.N.



Year:

2013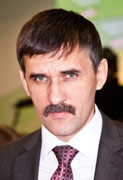 Editor-in-chief
Sergey Aleksandrovich
MIROSHNIKOV