Подача статей





Dostova T. M.
EFFECT OF LONG-TERM AGRICULTURAL USE ON HUMUS SOIL CONDITIONS OF THE SOUTHERN URALS
The results of the analysis of the state of humus chernozems and dark chestnut soils of the Urals, as well as their dynamics is evaluated in a number of virgin land — arable land. Among the identified geographical zoning changes such indicators of humus, as its contents and reserves, the type of humus content of mobile fulvic and humic acids associated with calcium.
Key words:
humus, zoning soil humic acid.
References:
1. Grishina, L.A. humus and humus soil condition / L.A. Grishina. — M., 1986.
2. Rusanov, A.M. Soil as a factor in re-vegetation of natural pastures / A.M. Rusanov // Ecology. — 2011. N. 1. — S. 34-42.
3. Williams, V.R. Soil Science. Agriculture is the basics of soil science / Villyams. — M., 1936. — 647 p.
4. Rusanov A.M. Humus panel status southern black soil under natural pasture / A.M. Rusanov // Soil Science. — 1993. N. 11. — P. 25-30.
5. Rusanov, A.M. The influence of agricultural development in the humus / A. M. Rusanov, P. S. Tregubov // Chemicals used in agriculture. — 1989. — N. 2. — P. 50-52.
6. Rusanov, A.M. Environmental aspects of humus and humus dynamics of virgin and cultivated black soil Urals / A. M. Rusanov, L. V. Anilova // Ecology. — 2009. — N. 6. — P.1 — 6.
7. Rusanov, A.M. Black soil humus state of Orenburg Ural region and its transformation under the influence of long-term agricultural use / A. M. Rusanov, L. V. Anilova, A. V. Teslya, I. Klevtsova // "Humic substances in the biosphere." Proceedings of the All-Russian Conference IV. — M., 2007. — P. 305-310.
About this article
Author:

Dostova T.M.



Year:

2013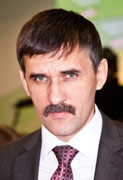 Editor-in-chief
Sergey Aleksandrovich
MIROSHNIKOV