Подача статей





Dergacheva M.I., Nekrasova O.A.
URANIUM AND THORIUM CONTENT IN THE HUMIC ACIDS OF PALEOSOLS BURIED UNDER BARROWS AND CULTURAL HORIZONS OF ARCHAEOLOGICAL OBJECT STEPNOE 7 (SOUTHERN URALS)
In this paper the contribution of humic acids in the total soil pool of radioactive elements U and Th was estimated on the example of paleosols, buried in the Bronze Age, the cultural horizons of the same time and territorial localization, as well as modern background soils in forest-steppe conditions of Southern Urals.
Key words:
radioactive elements, humic acids, chernozems, paleosols, cultural layers, Southern Urals.
References:
1. Dergacheva M.I., Motuzova G.V., Karpova E.A. Trace element composition of soils buried under barrows as a background for environmental monitoring / / Heavy metals, radionuclides and biophility elements in the environment.: Proceedings. II International. Science– practical. Conf. — Semipalatinsk, 2002. — Volume 2. — P.417–421.
2. Dergacheva M.I., Nekrasova O.A., Vasilieva D.I., Fadeeva V.P. Humic acid elemental composition of different formation condition virgin chernozems // Bulletin of the Orenburg State University.– 2012.– №10 (146).– P.90–96.
3. Dergacheva M.I., Nekrasova O.A., Lavryk N.L. Humic acids of the Southern Ural modern soils: preprint. — Novosibirsk, 2002.– 24 pp.
4. Dergacheva Maria, Nekrasova Olga, Okoneshnikova Matrena, Vasilieva Dariya, Gavrilov Denis, Ochur Kseniya, Ondar Elena. Ratio of Elements in Humic Acids as a Source of Information on Environmental Formation of Soils // Contemporary Problems of Ecology, 2012. Vol. 5. №5.– p. 497–504.
5. Zdanovich G.B., Batanina I.M. Arkaim — Country towns: Space and images (Arkaim: Horizons of studies). Chelyabinsk: Publishing House of the Crocus; South-Urals. book. publ. — 2007. — 260 p.
6. Kabata-Pendias A., Pendias H. Trace elements in soils and plants. Moskva. Mir, 1989. — 439 p.
7. Nekrasova O.A., Dergacheva M.I. The amount of trace elements in ordinary chernozem and their humic acids (on an example of South Urals) // Bulletin of the Tomsk State University. Biology.– 2011. — №4 (16). — P. 7–16.
About this article
Authors:

Dergacheva M.I., Nekrasova O.A.



Year:

2013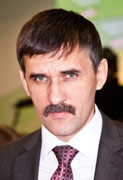 Editor-in-chief
Sergey Aleksandrovich
MIROSHNIKOV