Подача статей





Orlova D.G.
FEATURES SOME WATER REGIME OF LABOUR ARONIAPERS., CHAENOMELESLINDL., CRATAEGUSL., SORBUSL. WHEN IN INRODUKTSII ORENBURG PREDURALJA
The results of the study of water scarcity and high speed differential water losses of some species of the subfamily Maloideae Web. Found that water regime of plants plays an important role in predicting the growing of exotic species in the new environmental conditions.
Key words:
introduction, water treatment plants, water scarcity, the average rate differential water losses.
References:
1. Avdeev V. I. Comparative analysis of drought resistance of woody fruit plants / / Bulletin of the Orenburg State Pedagogical University. Electronic scientific journal in 2005. — №3. — P. 64-73.
2. Bakhteyev F.H. Major fruit plants. — M.: Education, 1970. — 351 p.
3. Witkowski V.L. Fruit plants of the world. — St. Petersburg.: Publishing house: "Lan'", 2003. — P. 50-103.
4. Zaitseva I. A. Water balance of plants of family Saxifragaceae in steppe Dnieper, 2006. — P. 72-78
5. Kulagin A.Y.Рhenomenon of drought of Salix L. species: experimental characteristic of the features of the water regime / / of the Samara IzvtstiaScientific Center, Russian Academy of Sciences, 2003. — T. 5. — №2. — P. 328-333.
6.Lapin P. I. Introduction of woody plants in the middle belt of the European part of the USSR. Scientific basis, methods and results. — L.: WRI, 1974. — P. 96-105.
7. Milkov F.N. General characteristics of the nature of Chkalov region / / Sketches of the physical geography of Chkalov region. — Chkalov: Chkalov. Publishing House, 1951. — P. 19 — 53.
8. Program and methods studying of sorts, of berry and nut crops / Ed. E.N.Sedov, and T.P.Ogoltsova. — Moscow: Publishing House VNIISPK, 1999. — S. 235-246.
9. Flora of Eastern Europe / Ed. N. N.Tsveleva. — St. Petersburg: " Mir I semya", SPCPA, 2001.–P. 566 — 583.
10. Chibilev A. Nature of the Orenburg region. Part I. Physical-geographical, historical and geographical outline / Orenbur.phil. Rus. of geographical.o-va.– Orenburg, 1995. — 128 p.
About this article
Author:

Orlova D.G.



Year:

2013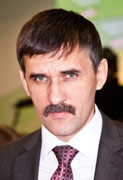 Editor-in-chief
Sergey Aleksandrovich
MIROSHNIKOV