Подача статей





Gorichev Ju.P.
SUCCESSION SYSTEM OF THE PROVINCE BROADLEAVED-DARK CONIFEROUS FORESTS OF THE SOUTHERN URALS (FEATURES OF THE STRUCTURAL ORGANIZATION)
The general question of the structural organization of the province successional broadleaf-conifer forests of the Southern Urals.
Key words:
Southern Urals, the succession system, broadleaf-coniferous forests, province, climax community, topographical complex ekogenetichesky complex.
References:
1. Gorichev Yu.P., Davydychev A.N, Alibaev F.H., Kulagin A.Yu. Broadleaf-coniferous forests of the Southern Urals: a spatial differentiation, phytotsenotical features and natural regeneration. — Ufa: Gilem, 2012. — 176 p.
2. Gorichev Yu.P. Justification of the block diagram of the vegetation cover of the Southern Urals, based on consideration of the succession process (macro-and mesoscopic structure) // Ecological and geographical problems of the regions of Russia. Samara: PGSGA, 2013. Pp. 30-36.
3. Zherikhin V.V. Selected works by paleekologii and filotsenogenetike. Moscow: Association of scientific publications KMK. 2003. — 542 p.
4. Odum E.P. Ecology. V.2. Springer-Verlag. Moscow: Mir, 1986. — 376 p.
5. Razumovsky S.M. Selected Works. Moscow: KMK Scientific Press. 1999. — 560 p.
6. Whittaker R.H. Communities and Ecosystems. Moscow: Progress Publishers, 1980. 328 p.
7. Clements F.E. Plant succession and indicators. N.Y., L.; Hafner publishing Company, 1963. 453 p.
About this article
Author:

Gorichev Yu.P.



Year:

2013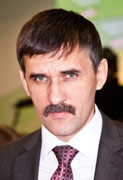 Editor-in-chief
Sergey Aleksandrovich
MIROSHNIKOV