Подача статей





Vidyakin A.I., Kantor G.Ya.
SPATIAL ORGANIZATION AND FACTORS OF FORMING POPULATION GROUP OF PINE IN THE SOUTHERN TRANSURALS
Geographic variability of Pinus Slivestris L. cotyledons number the Southern Transurals is studied. Three population groups are identified and mapped. Possible factors of their formation are suggested. Seed zoning recommendations on the species are given.
Key words:
Pinus Slivestris L., cotyledons, geographic variability, population groups.
References:
1. Vidyakin A.I. Population structure of pine in the east of the European part of Russia: Abstract of diss. ... Dr. of Biology. Ekaterinburg, 2004. — 48p.
2. Vidyakin A.I.,Glotov N.V. Variability of pine cotyledon number in the east of European Russia // Ecology. — 1999. — №3. — P.170–176.
3. Gorchakovskiy P.L. The history of vegetation of the Urals. Sverdlovsk Sverdlovsk Publishing House, 1953. — 144p.
4. Glotov N.V., Zhivotinskiy L.A., Khovanov N.V., Khromov-Borisov N.N. Biometrics. L.:LSU Publishing House,1982. — 263p.
5. Kirin F.Ya. Geography of Chelyabinsk region..4th edition. Chelyabinsk: South-Ural Publishing House,1973. — 99p.
About this article
Authors:

Vidyakin A.I., Kantor G.Ya.



Year:

2013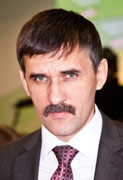 Editor-in-chief
Sergey Aleksandrovich
MIROSHNIKOV