Подача статей





Agisheva S.Y.
ECOLOGICAL CONDITIONS OF FORMATION OF THE VEGETATION COVER SOILS OF THE STEPPE ZONE OF THE URALS
The generalized data on the environmental conditions of the formationofthe vegetation cover of the steppe zone of the Urals. Main factors influencing on theformation of vegetation cover: climate, the island forests and slope the asymmetry.
Key words:
vegetable sub-areas, zoning soils, slope the asymmetry island forest phytocenosis
References:
1. Agisheva S.Y. Ecological features of profile formation black soils of the steppe zone of the Urals// Vestnik OSU,-2010.– №6 — P. 8 -12.
2. Aleksandrova L.N. Soil organic matter and its transformation processes. L.: Nauka. — 1980. — 287p.
3. Anilova L.V. The role of vegetation ecology profile formation of forest-steppe and steppe chernozems in the Urals region of Orenburg. — Orenburg, 2007. — 17 p.
4. Rusanov A.M. Biodiversity of vegetation and the variety of soils adjacent to Бузулукскому Bor landscapes// Ecology. — 2007. — №1. — С13-17.
5. Rusanov A.M., Milyakova Е.А. //Pocvovedenie, 2005. — №6. — P. 645 — 652.
About this article
Author:

Agisheva S.Yu.



Year:

2013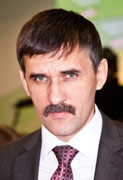 Editor-in-chief
Sergey Aleksandrovich
MIROSHNIKOV