Подача статей





Kuramshina N.G., Bogatova O.V., Kulak YU.N., Nikolaeva S.V., Kuramshin E.M.
ECOGEOCHEMICAL STATE GIDRORESOURCE BASHKORTOSTAN AND ORENBURZHYE
The condition of the small rivers of Bashkortostan and the Orenburg region in oil production places is investigated. Concentration of typical polluting substances in the surface water accompanying process of oil production (the dry rest, oil products, chlorides), and also integrated indicators of quality of waters in a zone of influence of oil fields is defined.
Key words:
mineralization, oil products, chlorides, biological absorption of oxygen, chemical absorption of oxygen and biotoxicity.
References:
1. Kuramshina N.G., Nafikova A.H., Kuramshin E.M., Krasnogorskaya N.N. Acute toxicity of aqueous solutions of chemical reagents used in the oil / / Life Safety. — 2007. — № 6. — P. 31-33.
2. Novikov Y.V., Lastikina K.O/, Boldin Z.N. Methods for studying the water quality of water bodies. — Moscow: Medicine, 1990. — 400 pp.
3. Bioassay methods for bio-indication and natural waters. — Gidrometeoizdat, 1988. — Issue. 2. — 275 pp.
About this article
Authors:

Kulak Yu.N., Kuramshina N.G., Bogatova O.V., Nikolaeva S.V., Kuramshin E.M.



Year:

2013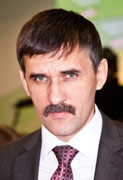 Editor-in-chief
Sergey Aleksandrovich
MIROSHNIKOV