Подача статей





Lezhneva I.I., Polischuk V.Y., Khanin V.P.
TENSION OF THE PLASTIC BODY PRESSED IN SCREW THE CHANNEL OF EKSTRUDER
On the basis of model of an elastic and plastic body the tension of a pressed material in the channel of a screw press is considered, influence on developed tension of parameters of a pressed material and channel parameters screw is investigated. Limiting tension which can develop a screw press is defined.
Key words:
channel of a screw press, pseudo-plastic body, sawdust, pressing process, briquette, pressure, fluidity limit.
References:
1. Gomonay M. V. Production of fuel briquettes. Wood raw materials, equipment, technologies, operating modes [Text]: Monograph/m of Century Gomonay. — М: MGUL, 2006 — 68 p.
2. Bostandzhiyan S. A., Stolin A.M. A current of not Newtonian liquid between two parallel planes / Pages. A.Bostandzhiyan, A.M.Stolin. — Изв. Academy of Sciences of the USSR. Mechanics. 1965, No. 1. p. 185-188.
3. Unksov E.P. Engineering theory of plasticity of [Text] / E.P. Unskov. — M; Mashgiz, 1959. 328 p.
4. Malinin N. N. Applied theory of plasticity and creep/N N. Malinin. — M; Mechanical engineering, 1968 — 400 p.
5. Polischuk V.Y., Korotkov V.G., Zubkova T.M. Design of extruders for APK/V.Yu branches. Polischuk, V. G. Korotkov, T.M.Zubkov. — Yekaterinburg: URO Russian Academy of Sciences, 2003 — 200 p.
About this article
Authors:

Hanin V.P., Polishchuk V.Yu., Lezhneva I.I.



Year:

2013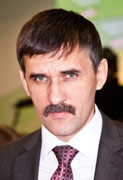 Editor-in-chief
Sergey Aleksandrovich
MIROSHNIKOV