Подача статей





Poshvina E.V. Rusanova N.A.
"THE KNIGHT OF THE SONATA": ROMANTIC QUEST OF THE SECOND HALF OF THE TWENTIETH CENTURY
The work is devoted to the study of the stylistic features of the second half of the twentieth century, the example of the sonata creativity of Vavilov, which is seen in the context of dialogue styles and artistic eras. From the early to the late sonatas traced the evolutionary processes of the genre, exhibiting a high degree of complexity and individualized.
Key words:
piano music, sonata, neo-romanticism, style, genre.
References:
1. Protopopof, V.V. Questions of musical form / / Proc. articles. — M: Music, 1985. MY. 4. 232 p.
2. Grigorieva, G.V. Musical forms of the XX century. "Analysis of music": studies. manual [Text] / G. V. Grigorieva. — M: the humanities. ed. Center VLADOS, 2004. — 175 p.
3. Dolinskaya, E.B. About Russian music of XX century (60th-70th years) [Text]: a manual for the course "History of modern Russian music" / E.B. Dolinskaya. — Moscow: Composer, 2003. — 158 p.
4. Drach, N.G. The main stylistic trends in the domestic piano art of the second half of the XX century: the Dissertation of the candidate of art criticism [Text] / N.G. Drach. — Saratov, 2006. — 20 p.
5. Kuz'menkova, O.A. The style modeling in the works of Russian composers of the 70-90-ies of XX century (symphonic and instrumental music): the dissertation of the candidate of art criticism O.A .Kuz'menkova. — Herzen State Pedagogical University. AI Herzen. — St. Petersburg, 2004. — 22 p.
About this article
Authors:

Poshvina E.V., Rusanova N.A.



Year:

2013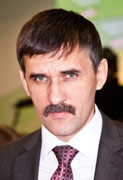 Editor-in-chief
Sergey Aleksandrovich
MIROSHNIKOV