Подача статей





Parusimova N.I.
THE STAGES OF DEVELOPMENT OF RUSSIAN BANKING MEDIATION
In the article an exaction of banking mediation is investigated, factors are disclosed defining particularity of banking performance at every stage. It is shown a new culture of risk management is demand under increasing uncertainty and risk, and it is shown a new model of bank which cooperates closely with financial mediators.
Key words:
bank, banking, banking mediation, banking branch, banking department.
References:
1. Doerig, Hans-Ulrich Universal bank — the bank of the future. The financial strategy at the turn of century / Trans. from the German. — Moscow : International relationship, 1990. — 384 р.
2. Financial management in commercial bank and the financial service industry / Jr. Joseph ; Trans. from the English. — Moscow : Alpine Business Books. — 1018 p.
3. Stephen, M. Frost The Bank Analyst's Handbook : Money, risk and conjuring tricks. — John Wiley & Sons, Ltd, 2004.
4. Benston G. J., Smith C. W. A Transaction Cost Aproach to the Teory of Financial Intermediaries // Journal of Finance. — 1976. — Vol. 31. — P. 215–231.
5. Allen F., Santomero A. The Theory of Financial Intermediation // Journal of Banking and Finance. — 1997. — Vol. 21.
6. Leland H. E., Pyle D. H. Information Asymmetries. Financial Structure. Financial Intermediaries // Journal of Finance. — 1977. — Vol. 32. — P. 371–387.
7. Beck T., Demirgus-Kunt A., Levine A. New Database on Financial Development and Structure // Word Bank Economic Review. — 2000. — № 14.
About this article
Author:

Parusimova N.I.



Year:

2013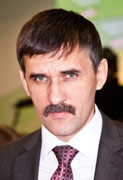 Editor-in-chief
Sergey Aleksandrovich
MIROSHNIKOV