Подача статей





Novikova M.D.
ABOUT THE ORGANIZATION OF FINANCE LIVESTOCK PRODUCERS
The principles of organization of the finance business entities engaged in the production of animal products. The analysis of the circulation of funds, the composition and structure of fixed and working capital, the structure of financial resources, the level of labor costs and material consumption of livestock enterprises. The features of the organization of finance livestock producers have a significant impact on the financial results of enterprises in the sphere of management.
Key words:
animal, working capital, fixed assets, income, expenses, profit or loss.
References:
1. Barulin, S. V. Finances : a textbook / S. V. Barulin. — Moscow : KNORUS, 2010. — 640 p.
2. National Report "On the progress and results of the implementation in 2011 of the State program of agricultural development and regulation of the market for agricultural products, raw materials and food for the years 2008–2012" [Electronic resource]. — Access mode : http://www.mcx.ru/navigation/docfeeder/show/297.htm
3. Zinina, L. I. Methodological issues of the organization and regulation of the market of agricultural products / L. I. Zinina // Regional Economics : Theory and Practice. — 2012. — № 14. — P. 50–57.
4. The specific structure of the fixed assets in the Russian Federation at the end of the year by economic activity [Electronic resource]. — Access mode : http://www.gks.ru/wps/wcm/connect/rosstat_main/rosstat/ru/statistics/enterprise/fund/index.html #
5. Finance agricultural enterprises / M. L. Lishansky, Z. A. Cruz, L. S. Shokhin, ed. M. L. Lishansky. — Moscow : colossus, 2003. — 376 p.
6. Morozov, N. M. Improving the competitiveness of livestock products through innoatsionnyh achievements / N. M. Morozov // Bulletin of the Russian Academy of Agricultural Sciences. — 2008. — № 1. — P. 15–20.
7. Sokolov, I. A. The use of compulsory insurance system in agriculture / I. A. Sokolov // Economics of agriculture. — 2010. — № 2. — P. 454–456.
About this article
Author:

Novikova M.D.



Year:

2013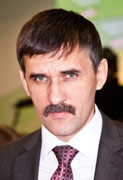 Editor-in-chief
Sergey Aleksandrovich
MIROSHNIKOV