Подача статей





Baranov V.V.
SPORTS AND CONTEXTUAL PROGRAMS OF FORMATION COMPETITIVE RESOURCE OF THE STUDENT OF A UNIVERSITY COMPLEX
Complex pedagogical means of personal development of the student are presented in article. Contextual character of the program was defined by its orientation to specifics of future professional activity of students. The program included carrying out integrative games for students and teachers, creation of corporate groups of health, introduction of additional subjects in the maintenance of advanced training courses of teachers of higher education institution, curators, in the preparation program "Teacher of the higher school", disciplines for choice for masters of pedagogics. Tendencies of an intensification of development of competitive qualities at participating students of the program, strengthening interaction of students and teachers within NIRS are as a result noted.
Key words:
student, competitive resource, sports and contextual program, university complex, factorial analysis.
References:
1. Baranov V.V., Belonovskaja I.D., Chepasov V. I. The factorial analysis as toolkit of pedagogical knowledge of self-development of the student of a university complex.The Bulletin of the Orenburg state university. 2012. №2. — С.21-27
2. Gershunsky B.S. Pedagogical prognostic. The theory, methodology, practice. М., Flint, 2003.
3. Ekshikeev T.K. Development of competitive potential of high school in the market of educational services//Problems of modern economy, 2009. N 2 (30).
4. Kirjakova A.V., Olhovaja T.A., Belonovsky I.D. Аxiology. Applied researches in pedagogics. — М: 2010.
5. Kovalevsky, V.P. Theoretical and methodological bases of formation of a regional university complex. — М: Economy. — 2004. — 307 p.
6. Kondakov, A.M. Education as a resource of development of the person, a society and the state.– SPb.: 2004. — 235p.
7. Celevko, G.K. The encyclopedia of educational technologies. М: 2006.
8. Silkin A.V. Belonovsky I.D.Tekhnologii of active training by preparation of future managers for management of crisis situations//the Higher education today. — 2010. — No. 10. — Page 23-26.
About this article
Author:

Baranov V.V.



Year:

2013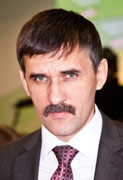 Editor-in-chief
Sergey Aleksandrovich
MIROSHNIKOV