Подача статей





Ivanova Z.I., Gavrikov D.S.
ANALYSIS OF HALF-TIMBERED ARCHITECTURE IN THE ASPECT OF ARCHITECTURE SOCIOLOGY
The connection of architecture and social processes is discovered, the idea of necessity to consider mental needs' while organizing environment, necessity to study requires of citizens while making town-planning decisions. The authors deeply study the history of different types of half-timbered architecture, building techniques, which are characteristic for geographical, climate peculiarities of different regions and for worldview and perception of the area by inhabitants.
Key words:
half-timbering, area organization, mental needs, pre-cut method, coloristics.
References:
1. Delits H. Architecture in social dimension //Sociologicheskie issledovanija. — 2008. — №10. — S. 113-121.
2. Kolomiets G.G. About an art role in a dialogue context of cultures.//Dialogue of cultures in the conditions of globalization: XI International Likhachevsky scientific readings, 12-13th 2011. T. 1: Reports. — SPb: SPbSPU, 2011. — Page 330-332.
3. Barabanov A. "Human and architecture: semantics of relationship". Rezhim dostupa:http://www.tu-cottbus.de/theoriederarchitektur/Wolke/rus/Themen/021/Barabanov/Barabanov.htm. Date of Reference 7.05.2013.
4. Gavrikov D.S. Ecological aspects of half-timbered architecture. // Arhitekton: izvestija vuzov. Ekaterinburg: UralGAHA. — 2013. — №41. — Rezhim dostupa: http://archvuz.ru/2013_1/6. Date of Reference 7.05.2013.
5. Stiewe H. Fachwerkhдuser in Deutschland. Konstruktion, Gestalt und Nutzung von Mittelalter bis heute / H. Stiewe. — Darmstadt: DWG, 2007. — S. 118-126.
6. German, A.A.; Pleve, I.R. The Germans of Volga region. Brief historical sketch. Saratov: Izdatel'stvo Saratovskogo universiteta. — 2002. — 131 s.
About this article
Authors:

Ivanova Z.I., Gavrikov D.S.



Year:

2013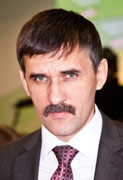 Editor-in-chief
Sergey Aleksandrovich
MIROSHNIKOV