Подача статей





Vakhitov R.R.
EURASIAN DOCTRINE OF LITERATURE: CIVILIZATIONAL APPROACH AND FORMAL METHOD IN THE TRUBETSKOY'S WORKS DEVOTED TO LITERATURE
The article deals with the doctrine of literature at one of the leading theoreticians of Eurasianism 1920-1930"s NS Trubetskoy. The paper shows that the main characteristics of this doctrine were the civilizational approach to literature (especially to the Russian literature) and the formal method. Trubetskoy believes that there is no world literature and that each civilization has its own distinctive literary tradition, and that the formal method is called to reveal the spirit of the national literature at a certain stage of development.
Key words:
NS Trubetskoy, literature, Eurasianism, the formal method.
References:
1. Eurasianism (experience systematic exposition), Prague, 1926
2. "Exodus to the East. Anticipation and fulfillment. Approval of the Eurasians. Book 1 Sofia, 1920 "
3. PN Medvedev Formal Method in Literary Criticism. A critical introduction to sociological poetics / Bakhtin under the mask. — M.: Labyrinth, 2003 640 p.
4. Serio P. Structure and totality. On the intellectual origins of structuralism in central and eastern Europe. 1920-30-yy. / Auth. per. from French. N.S. Avtonomova. — Moscow: Languages of Slavic Culture, 2001. -360 S.
5. "The themes of the day," Father and Son. Eurasian Peter Sawicki and historian Ivan Savitsky. 22.08.05. Presenter — Michael Sokolov / / Radio "Liberty". Svobodanews.ru [electronic resource]: the database contains the content of radio "Liberty" in Russian. — Mode of access: http://www.svobodanews.ru/content/article/126995.html free. Caps. Screen
6. NS Troubetzkoy History. Culture. Language. -M., 1995 798 c.
7. NS Troubetzkoy "Journey Beyond Three Seas" Nikitin as a literary monument / / Russian Eurasianism node. East in Russian thought. Proceedings of the Eurasians, Moscow, 1997
8. NS Troubetzkoy About metric ditties / NS Troubetzkoy Selected works on philology with. 371 — 392 M. Progress, 1987 560 s.
About this article
Author:

Vahitov R.R.



Year:

2013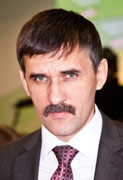 Editor-in-chief
Sergey Aleksandrovich
MIROSHNIKOV