Подача статей





Gorokhov P.A.
SOME THOUGHTS ON THE PHILOSOPHY OF ALBERT CAMUS
The article deals with important aspects of Albert Camus' existentialism as a particular form of social and philosophical anthropology. A man is seen by Camus through a number of marginal situations leading to the era of the global crisis on the brink of existence. Unconventional and deep analysis of the concepts of eternal life, being, chance, freedom thinker leads to conclusions about the total absurdity of existence. Camus — is an independent phenomenon, once again — but on an entirely new level — showing a genetic link between philosophy and literature as philosophical and semantic forms of human culture.
Key words:
existentialism, philosophy of history, philosophy, literature, absurdity, nihilism, worldview.
References:
1. Camus, A. "The Rebel". — Moscow: TERRA-Book Club, 1999.
2. Camus, A. Works. — Moscow: Prometheus, 1989.
3. Solovyov, V. S. Philosophical Principles of Integral Knowledge / V. S. Solovyov. — Мinsk, 1999.
About this article
Author:

Gorohov P.A.



Year:

2013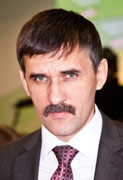 Editor-in-chief
Sergey Aleksandrovich
MIROSHNIKOV