Подача статей





Malgina S.P.
THE EFFECT OF PRODUCED WATER FUNCTIONAL CHARACTERISTICS
The article deals with the study of the produced water on such functional characteristics of plants as bio productivity, biomass structure and photosynthetic rate. The author has studied some functional peculiarities of plants on the Samotlor land sate contaminated with drilling fluids.
Key words:
produced water, сenomanian water, pollution, bio productivity, biomass structure, photosynthetic rate.
References:
1. Vershinin, YA, Zubaydullin AA Environmental risk assessment for contaminated wetlands and reclamation / /. NGGU Herald. Natural sciences and earth sciences. — 2009. — №1. — p. 53-57.
2. Gavrilenko V.F., Large workshop on photosynthesis / V.F. Gavrilenko, T.V. Zhigalova: studies. pos. for stud., ed. I.P. Ermakova. — Moscow: The Academy, 2003. — 256p.
3. Ivanova N.A., Yumagulova E.R. Ecological and physiological mechanisms of adaptation strategies and types of vascular plant bogs. Khanty-Mansiysk: LLC "Printing" Printing "– 2010. — 165p.
4. Ivanov L.A. Morphological and biochemical features of the boreal zone with different types of adaptive strategies: avtoref.dis.na soisk. exercises. step. Candidate. biol. Sciences: — Tomsk, 2001. — 24p.
5. Pyankov V.I. The structure of the biomass of plants boreal zone with different types of environmental policies / V.I. Pyankov, L.I. Ivanov / / Ecology. — 2000. — №1. — p. 3-10.
6. Strogonov B.P. etc. The structure and function of plant cells in saline. Moscow, 1970. — 315p.
7. Chizhov B.E. Timber and oil Khanty-Mansi Autonomous District / B.E. Chizhov. — Tyumen: Publisher J. Mandryk, 1998. — 144p.
8. Shamsutdinov Z.Sh., Savchenko I.V., Shamsutdinov N.C. Halophytes Russia, their environmental assessment and use — M., 2000. — 399p.
About this article
Author:

Malgina S.P.



Year:

2013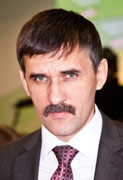 Editor-in-chief
Sergey Aleksandrovich
MIROSHNIKOV