Подача статей





Bulgakova M.A., Bulgakov E.A.
EFFECT OF CATTLE MANURE ON POPULATION DENSITY LUMBRICIDAE (CASE STUDY TYPICAL CHERNOZEM)
The effect of farm animal feces on population density Lumbricidae grassland soils. To evaluate changes in the pH of the medium in terms of bringing the manure on pasture land.
Key words:
pasture digression, the reaction environment, population, Lumbricidae, earthworms.
References:
1. Bornemissza, G. F. Could dung eating insects improve our pastures? J. Aust. Inst. Agric. Sci. №75. — 1960. — Р. 54-56.
2. Breymeyer, A. Analysis of a sheep pasture ecosystem in the Pieniny mountains (the Carpatians). XL The role of coprophagous beetles (Coleoptera, Scarabaeidae) in the utilization of sheep dung. Ekologia Polska №22.-1974.– P. 617-634.
3. Smelov S.P. Theoretical Foundations of Grassland / / Moscow: Kolos. 1966. 368 p.
4. Rusanov A.M., Gaevskaya M.A. Changes in the community soil — plant — soil mesofauna under the influence of anthropogenic load // Vestnik OSU. — 2011. — № 12 (131), December, Orenburg State University — P. 129-131.
5. Rusanov A.M., Gaevskaya M.A., Primak O.V. The relationship of the humus status and physical properties of chernozem steppe grassland ecosystems with earthworms / / Proceedings of the International Scientific Conference "Soils of Khakassia, use and protection" to mark the 85th anniversary of the MG Tanzybaeva. — Abakan, LLC "Cooperative" Journalist, 2012. — P. 189-196.
6. Rusanov A.A., Gaevskaya M.A., Borodin A.V. Lumbricidae activity in soils pasture ecosystems and steppe zones Urals / / Proceedings of the VI Congress of Soil Science Society of it. V.V. Dokuchaeva. Russian participation in international scientific conference "Soil Russia: current status and prospects of study and use" (Petrozavodsk to Moscow, August 13-18, 2012.) Petrozavodsk: Karelian Research Centre of Russian Academy of Sciences, 2012 Kn.2. P. 435-436
7. Rusanov A.M. Soil as a factor in revegetation of natural pastures. — 2011. — № 1, "Ecology" — Р. 34 — 42.
8. Stepanova O.B., Rusanov A.M., Urov S.A., Polyakov D.G. Land monitoring of the Orenburg Region / / Orenburg, "Dimur", 2011. 28 р.
About this article
Authors:

Bulgakova M.A., Bulgakov E.A.



Year:

2013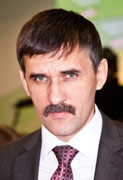 Editor-in-chief
Sergey Aleksandrovich
MIROSHNIKOV