Подача статей





Stepanova M.A.
ACCUMULATION OF HEAVY METALS WILD APPLE TREE (MALUSSYLVESTRIS) IN BUZULUK
With increasing urbanization is changing urban environment, which differs in many respects from the natural environment. Heavy metals occupy a special position, because, not subjected to physico-chemical or biological degradation, accumulate in the surface layer of the soil and change their properties, for a long time are available for root uptake by plants and actively participate in the processes of migration in trophic chains.
Key words:
heavy metals, аpple, sustainability, and the accumulation.
References:
1. Вol'shakov, V.A. The contamination of soils and vegetation heavy metals / V.A. Bolshakov, N.Y. Galperin, G.A. Klimenko, etc.. M.: Gidrometeoizdat, 1978. — 49 p.
2. Ilyin, V.B. Heavy metals in soil-plant system / V.B. Ilyin. Novosibirsk– Nauka, 1991. — 150 р.
3. The procedure of determining the parameters of the damage from pollution of the lands of chemical substances. Urkaine. The Chairman of Committee of the Federation for land resources and land utilization of the 10.11.93 the Ministry of environment protection and natural resources. 1993; URL: http://www.bestpravo.ru/federalnoje/gn-postanovlenija/f9o.htm
4. Rusanov, A. M. Characteristics of ecologo-geochemical condition of soils in the territory of the Orenburg region /A.M..Rusanov, Е.В.Блохин, Н.Н.Зенина //Hygiene and sanitation, Medicine, 2002. №5. — P.15 — 17.
5. Rusanov, A.M. The content of heavy metals in the fruits of Apple trees in urban environments / А.М. Rusanov, Е.Z.Savin, S.E. Nigmatynova, M.M. Nigmatynov, М.А. Stepanova / / Vestnik of OSU, 2011, №1. — 148 — 151 p.
6. Rusanov, A.M. Heavy metals in the fruit of the wild rose parks of the town of Orsk / A.M. Rusanov, D.M..Turlibekov / / Vestnik of OSU, 2011, no. 12. — 299 — 300 p.
7. Shein, E.V., Milanovsky, E. Y. Effect of boron on Buzuluk adjacent landscapes and properties of soils / E.V. Shein, E.Y. Milanovsky // Soil Science, 2008, №2. — Р. 146-152.
About this article
Author:

Stepanova M.A.



Year:

2013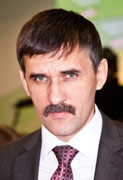 Editor-in-chief
Sergey Aleksandrovich
MIROSHNIKOV