Подача статей





Stebnev V.S., Malov V.M., Stebnev S.D.
THE RESULTS OF COMBINED SURGERY PATIENTS WITH CATARACT AND IDIOPATHIC MACULAR HOLES
In the article features and results of the surgical treatment of patients with macular holes and cataracts with application of combined surgery are studied. To all patients phacoemulsification with IOL implantation was performed. Then microinvasive 25+ Gauge valved system chromovitrectomy was done. Such technic allows to achieve high anatomic and functional results in treatment of macular holes and cataract in the early and remote period of supervision. Intraoperative and postoperative complications are studied with anatomic and functional results.
Key words:
Phacoemulsification, Chromovitrectomy 25+Gauge, idiopathic macular hole.
References:
1. Stebnev V.S., Stebnev S.D. Features and results of idiopathic macular holes surgery using "Brilliant Blue G" on heavy water D2O. // Modern technologies of vitreoretinal pathology treatment — 2011. — М., 2011. — P.160-162.
2. Abrams G., Topping T., Machemer R. An improved method for practice vitrectomy. //Arch Ophthalmol. — 1978. — Vol. 96. — P.521-525.
3. Gass J. Stereoscopic Atlas of Macular Diseases. // Mosby Co. St. Louis, 1977. — P. 938-948.
4. Meyer C. Vital dyes in vitreoretinal surgery — chromovitrectomy. // Developments in Ophthalmology. Karger. — 2008. — P.101-115.
5. Enaida H., Hisatomi T., Goto Y., Hata Y. Preclinical investigation of internal limiting membrane peeling and staining using intravitreal brilliant blue G. //Retina. — 2006. — Vol. 26. — P.623-630.
6. Kaymak H. Heavy Brilliant Blue G: A new formulation for an easy application and excellent staining properties. //The 10th EURETINA Congress. — France, Paris. — 2010. — P. 73.
About this article
Authors:

Stebnev V.S., Malov V.M., Stebnev S.D.



Year:

2013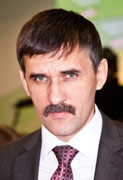 Editor-in-chief
Sergey Aleksandrovich
MIROSHNIKOV