Подача статей





Semenov A.D., Mushkova I.A., Karimova A.N.
COMPARATIVE EVALUATION OF THE RESULTS OF POSTKERATOPLASTY AMETROPY LASER CORRECTION
We observed and operated 29 patients with residual ametropy after penetrating keratoplasty: by FemtoLASIK technology — 11 eyes, by standard LASIK technology — 18 eyes. There was received an increase of uncorrected visual acuity from 0,12±0,1 to 0,51±0,23 and from 0,11±0,1 to 0,5±0,24, respectively. Comparative analysis of the results of laser correction showed that corneal flap formed by a femtosecond laser, is more uniformity and less deviation in thickness than a flap formed by microkeratome.
Key words:
penetrating keratoplasty, induced ametropy, laser correction.
References:
1. Barequet IS, Hirsh A, Levinger S. Femtosecond thin-flap LASIK for the correction of ametropia after penetrating keratoplasty // J Refract Surg. 2010. — Vol. 26, No. 3. — P. 191-196
2. Kwitko S, Marinho DR, Rymer S, Ramos Filho S. Laser in situ keratomileusis after penetrating keratoplasty // J Cataract Refract Surg. 2001. — Vol. 27, No. 3. — P. 374-379
3. Lee HS, Kim MS. Factors related to the correction of astigmatism by LASIK after penetrating keratoplasty // J Refract Surg. 2010. — Vol. 26, No. 12. — P. 960-965
About this article
Authors:

Semenov A.D., Mushkova I.A., Karimova A.N.



Year:

2013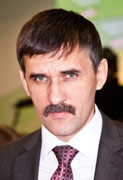 Editor-in-chief
Sergey Aleksandrovich
MIROSHNIKOV