Подача статей





Nerpina M.E., Pozharitskaya Ye.M., Pozharitskiy M.D.
MODERN ALGORITHM OF KERATOCONUS EARLY DIAGNOSTICS
Currently, there is a growing incidence of keratoconus. However, there is no universally accepted diagnostic algorithm. This article presents a comparative analysis of modern diagnostic techniques, identified the most sensitive indicators and, based on an algorithm for the early diagnosis of the disease.
Key words:
keratoconus, early diagnosis, pachymetry, tomography, topography.
References:
1. Kandayan M.A. To the question of keratoconus incidence and disability as its result among teenagers and young people of the Republic of Armenia //Vestnik ophthalmology. — 2001. — Vol. 117, №3. — P.42-43
2. Leoni-Mesplie S, Mortemousque B, Mesplie N, Touboul D, Praud D, Malet F, Colin J. Epidemiological aspects of keratoconus in children // J Fr Ophtalmol. 2012 Dec; 35(10)
3. Rabinovitz YS. Definition,etiology and diagnosis of keratoconus.// Highlights of Ophthalmology, International Edition. 2004;21:241-260
4. Sevostyanov Ye.N. Pathogenesis peculiarities, modern diagnostics and conservative treatment of keratoconus // Author's abstract... doc. of med. sciences — Samara, 2003. — 28p.
5. Gorskova Ye.N., Sevostyanov Ye.N., Giniatullin R.U. et al.. Keratocyte apoptosis in keratoconus // Vestnik ophthalmology. 2002.– Vol. 118, №4. — P. 36-38
6. Adachi W, Mitsuishi Y, Terai K, et al. The association of HLA with young– onset keratoconus in Japan. // Am JOphthalmol. 2002;133:557-559
7. Owens H., Gamble G Topographic indications of emerging keratoconus in teenage New Zealanders// Cornea. 2007 Apr;26(3):312-8.
8. Buhren J, Kook D, Kohnen T. Suitability of various topographic corneal parameters for diagnosis of early keratoconus // Ophthalmologe. 2012 Jan;109(1):37-44.
9. Fukuda S, Yamanari M, Lim Y, Hoshi S, Beheregaray S, Oshika T, Yasuno Y. Keratoconus diagnosis using anterior segment polarization-sensitive optical coherence tomography. // Invest Ophthalmol Vis Sci. 2013 Jan 24.
10. Li Y, Meisler M, Tang M, Lu A, Thakrar V, Reiser B, Huang D. Keratoconus diagnosis with optical coherence tomography pachymetry mapping// Ophthalmology. 2008 Dec;115(12)
About this article
Authors:

Pozharitskaya E.M., Nerpina M.E., Pozharitskiy M.D.



Year:

2013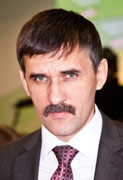 Editor-in-chief
Sergey Aleksandrovich
MIROSHNIKOV