Подача статей





Lukyanova A.A., Trufanova L.P.
STRABISMIC AMBLYOPIA WITH ECCENTRIC FIXATION IN CHILDREN AND ADOLESCENTS: ANALYSIS OF TREATMENT RESULTS
There were analyzed the results of strabismus amblyopia with eccentric fixation treatment in 67 patients (67 eyes). Combination of pleoptic and surgical treatment approaches allows decreasing angle of strabismus, ameliorating status of visual fixation and improving visual acuity in children with strabismic amblyopia with eccentric fixation.
Key words:
strabismus, amblyopia, treatment.
References:
1. Brutskaya L.A. Effectiveness of pleopto-orthoptic treatment// Vestnik ophthalmology.-2005.– №3. — P.36-39.
2. Venger L.V. Methods of amblyopia treatment and their effectiveness //Ophthalmol. Journ.– 2000.– №4.– P.74-79.
3. Kolomiets V.A., Brutskaya L.A., Gordienko V.I., Malishenko L.V., Onischenko A.S. New equipment facility for diagnostics of visual function disturbances and pleoptic-orthoptic treatment in patients with concomitant strabismus // Ophthalmol. Journ.– 2000.– №2.– P.4-8.
4. Ophthalmology. National guide /Under the editorship of S.E. Avetisov, E.A. Egorov, L.K. Moshetova, V.V. Neroev, H. P. Takhchidi., M.– 2008.– P. 775-786.
5. Khvatova N.V., Slyshalova N.N. Amblyopia treatment and its development tendencies// Ophthalmol. Journ. — 2002.– №4.– P.27-33.
About this article
Authors:

Lukyanova A.A., Trufanova L.P.



Year:

2013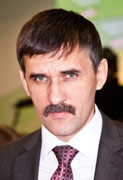 Editor-in-chief
Sergey Aleksandrovich
MIROSHNIKOV