Подача статей





Karlova E.V.
USING OF DYNAMIC CONTOUR TONOMETRY IN UVEOSCLERAL OUTFLOW MEASUREMENTS IN GLAUCOMA PATIENTS
Сomparison of results of dynamic contour tonometry and tonography in uveoscleral outflow measurement confirm the influence of vacuum-compression on cornea biomechanical properties. Dynamic contour tonometry is useful for correction of uveoscleral outflow measurement results in glaucoma patient after medication or surgery.
Key words:
primary open-angle glaucoma, uveoscleral outflow, dynamic contour tonometry.
References:
1. Zolotaryov А.V. Microsurgical anatomy of drainage system of the eye. — Samara, 2009. — 54 p.
2. Ophthalmology. National guideline / S.E. Avetisov, Е.А. Egorov, L.К. Moshetova, V.V. Neroyev, H.P. Takhchidi.– Мoscow.– 2008.– 940 p.
3. Stolyarov G.М., Lebedev О.I., Trophimova Е.I. Method of investigation of uveoscleral outflow // Мoscow, 2011. — P. 233-234.
4. Doyle A, Lachkar Y. Comparison of dynamic contour tonometry with Goldman applanation tonometry over a wide range of central corneal thickness. Journal of Glaucoma. 2005; 14:288–92.
5. Kaufmann C, Bachmann LM, Thiel MA. Comparison of dynamic contour tonometry with goldmann applanation tonometry // Invest Ophthalmol Vis Sci. 2004 Sep;45(9):3118-21.
6. Shaarawy TM, Sherwood MB, Hitchings RA, Crowston JG. Glaucoma. Volume two: Surgical management. — Saunders Elsevier. — 2009.– 623 p.
About this article
Author:

Karlova E.V.



Year:

2013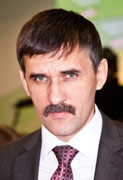 Editor-in-chief
Sergey Aleksandrovich
MIROSHNIKOV