Подача статей





Kadyrov R.Z.
EXPERIMENTAL KERATOPLASTY WITH AMNION AND ALLOPLANT BIOMATERIAL
The experiments on rabbits showed that Alloplant biomaterial for keratoplasty is replaced very slowly during the year by the connective regenerate that reduplicates the perikeratic structure without apparent inflamable processes. Transplantation of the amnion into the cornea results in the formation of non-uniform on structure of a connecting fabric affecting the transparency of the cornea.
Key words:
Transplantant for keratoplasty, amnion, cornea, regeneration stimulation.
References:
1. Goldfeld N.G. Level-by-level change of a dehydrated cornea with strengthening of transplantats of glue.– M: Мeditsina. — 1976. — 119pp.
2. Gundorova R.А., Boiko А.V., Chencova E.V. Chondroplastice at burn vascular cataracts // Vest.ophthal. — 1982. — №3. — P. 22-25.
3. Makeeva G.А. Application of amniotic membrane and a firm brain environment for barrier plastics at surgical treatment pterigium // Ophthalm. Journ. -1983. — №2. — P. 104-106.
4. Mazaeva N.R. Brefoplastic at pterigium // Vest.ophthal. — 1989. — №4. — P. 30-32.
5. Ovsepyan Т.L. Gomotransplantation of conjunctive and corneas from fruits and the lost newborns the patient with recurrent pterigiume and with partial simblefarone // Vest.oftal. — 1971.– №2. — P.28.
About this article
Author:

Kadyrov R.Z.



Year:

2013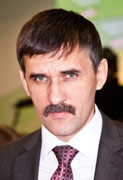 Editor-in-chief
Sergey Aleksandrovich
MIROSHNIKOV