Подача статей





Bakutkin I.V.
OPTIMIZATION OF DIAGNOSTICS OF ACCOMMODATION SPASM
The article is devoted to the optimization of diagnostics of accommodation spasm, which occurs when the excess of the visual load. There were examined 220 patients, which on the basis of complaints and clinical examination had the diagnosis of accommodation spasm. Proposed scheme of phase-out diagnostics of a spasm of accommodation with the appointment of the Irifrin 2.5% for the diagnosis of decomposable spasm of accommodation. While maintaining myopia indicators in refractometry recommended the appointment of additional Cyclomed 1% (resistant, relatively resistant patients accomodation).
Key words:
accommodation spasm, myopia,visual fatigue, medicamental treatment.
References:
1. Avetisov E.S. Myopia. Moscow, "Meditsina" 1999. — P.91-96.
2. Bakutkin V.V. Diagnostics and medical treatment of accommodation spasm// Modern optometry. 2007.-No. 1.-P.40-42.
3. Libman E.S, Shakhova E.V. Blindness and disability of vision among population of Russia: Program report at VIII Congress of ophthalmologists of Russia. / / Optometrist: newspaper. — 2005. — №4. — P. 5-7.
4. Petukhov V.M. Myopia as the most common professional pathology. Report at VIII Congress of Ophthalmologists of Russia. / / Optometrist: newspaper. — 2005. — №4. -P. 22. — 23.
5. Sidorenko E.I. Application of Irifrin solution 2.5% in the treatment of spasm accommodation and mild myopia. //Clinical Ophthalmology, 2006.-№3.-P.125-127
6. Slyshalova N.N., Khvatova N.V. Comparative estimation of Irifrin effect at various types of accommodation disturbances.// Clinical Ophthalmology. 2008.-№4.-P.157-158.
About this article
Author:

Bakutkin I.V.



Year:

2013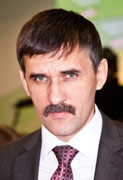 Editor-in-chief
Sergey Aleksandrovich
MIROSHNIKOV