Подача статей





Bakutkin V.V., Bakutkin I.V, Spirin V.F., Zaiko Y.N.
COMPUTER IMAGE ANALYSIS OF THE OPTIC NERVE IN CLINICAL PRACTICE
The authors have developed a computer program for analysis of images of the optic nerve, which can be used for early diagnosis and monitoring of the vision, assess the effectiveness of treatment. There have been carried out the analysis of the efficiency of its use in various eye diseases.
Key words:
colorometry, information technology, the optic nerve, image analysis, eye diseases.
References:
1. Dubinina Yu.A., Bakutkin V.V. Color index in the diagnostics of partial atrophy of optic nerve of various etiology // Theses of Reports. VIII Congress of Ophthalmologists of Russia (Moscow, June 1-4, 2005). — Moscow, 2005. — P.692-693
2. Libman E.S. The main causes of disability in the Russian Federation // Proc. Reports. 8 Congress of Ophthalmologists of Russia (Moscow, June 1-4, 2005). — Moscow, 2005. — P.292-295.
3. Strakhov V.V., Alekseev V.V., Yartsev A.V. To the question of primary glaucoma pathogenesis: glaucomatous neuropathy // Clinical ophthalmology-2010.-P.121-125
4. Bakutkin V.V., Kolbenev I.O., Dubinin Yu.A. Diagnostics way of optic nerve atrophy. Patent №2282390, Patent application №20005102366, priority of 31.01.2005
5. Nakatura H., Maeda T. Scanning laser tomography to evaluate optic discs of normal eyes.//Jpn. J. Ophthalmol.-1999.-Vol.43.-No.5.-P.410-414.
6. Yucel Y., Gupta N., Mizisin A., Weinreb R. Metantin protects neurons from sprinkoge in the lateral geniculate nucleus in experimental glaucoma // Arch. Ophthalmol.-2006.-Vol. 124.-P.217-225.
About this article
Authors:

Bakutkin I.V., Zayko Yu.N., Bakutkin V.V., Spirin V.F.



Year:

2013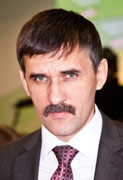 Editor-in-chief
Sergey Aleksandrovich
MIROSHNIKOV