Подача статей





Tsivenko I.V.
PROCURATORIAL SUPERVISION AS A WAY TO FIGHT AGAINST EXTREMISM. WAYS TO IMPROVE
The article discusses the fight against extremism, the necessity of coordinating the work of the entire system of law enforcement agencies in the fight against extremist offenses.
Key words:
extremism, public prosecutor's supervision, the extremist offenses.
References:
1 Vinokourov A. Fighting extremism means of Public Prosecutions / A. Vinokourov / Law. — 2002. — № 11. — p. 34.
2 On the organization of prosecutor's supervision over the implementation of the law on countering extremist activity: the order of the General Prosecutor's Office from 19.11.2009 N 362 / / PCA Consultant Plus
3 Ashurbekov T. Legal Monitoring threats to national interests / T. Ashurbekovs / Law. — 2007. — № 5. — p. 48.
4 Tamaev R.S. Extremism and National Security: The legal issues / R.S. Tamaev. -M. UNITY-DANA: The law and the law of 2009. — p. 140.
About this article
Author:

Tsivenko I.V.



Year:

2013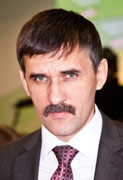 Editor-in-chief
Sergey Aleksandrovich
MIROSHNIKOV