Подача статей





Balovneva V.I.
IMPROVEMENT OF REPARATION OF DAMAGES MECHANISM, CAUSED BY CRIME, INCLUDING INDIVIDUALS AND LEGAL ENTITIES
There are issues about reparation of damages to crime victims, including legal entities in this article. Legislative regulation's gaps of legal positions in reparation of damages' possibilities to aggrieve from the conclusion of a pretrial cooperation agreement person are shown.
Key words:
aggrieved person in criminal procedure, pretrial cooperation agreement, the guarantee of execution of the sentence in the part of civil claim.
References:
1 Supreme Court of Russia's newsletter. — 2012. — №3. — p. 20-21.
2 Supreme Court of Russia's newsletter. — 2009. — №7. — p. 3.
3 Trunov I. Observance's problems of rights and liberties of crime victims/ I. Trunov// [electronic resource]: access mode: www.pvlast.ru
4 Karpov O., Maslov I. Pretrial cooperation agreement: problems of legal regulation and usage questions/ O. Karpov, I. Maslov// Criminal procedure. — 2009. — №3. — p. 3.
5 Tarnavsky O. Guarantee of defense's mechanism of person's rights and liberties in Russian modern criminal procedure (essence and characteristics): monograph/ O. Tarnavsky. — Orenburg: Publishing center of Orenburg State Agrarian University, 2010. — p. 105.
6 Kalugin A., Monid M. Compromise in criminal procedure: monograph/ A. Kalugin, M. Monid. — Krasnoyarsk, 2008. — p. 18.
7 Velikiy D. Pretrial cooperation agreement in Russian criminal procedure/ D. Velikiy// Russian law journal. — 2010. — №2. — p. 86.
8 Reshetova N., Konyarova Z. Pretrial cooperation agreement on criminal cases of corrupt orientation crimes: textbook/ N. Reshetova, Z. Konyarova. — Moscow, 2011. — p.
About this article
Author:

Balovneva V.I.



Year:

2013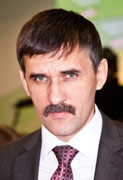 Editor-in-chief
Sergey Aleksandrovich
MIROSHNIKOV