Подача статей





Belousov A.A., Salikov M.P.
INCREASE OF POWER EFFICIENCY OF THE SINGLE-PHASE ASYNCHRONOUS ENGINE WITH THE DISCONNECTED STARTING WINDING
It is shown that properties of the single-phase asynchronous engine with disconnected starting winding can be improved considerably without its alteration, having left its starting winding after start-up included in network through the condenser of small capacity. The offered scheme is expedient for using for engines which are in operation, and at engine design.
Key words:
single-phase engine, condenser, power efficiency, magnetic field, heating.
References:
1 Lopukhina, E. M. Calculation of asynchronous micromotors of single-phase and three-phase current / E. M. Lopuhina, G. S. Somihina. — М.-L.: Gosenergoizdat, 1961. — 312 р.
2 Toroptsev, N. D. The three-phase the asynchronous engine in the scheme of single-phase inclusion with condenser / N. D. Toroptsev. — 4 ed. — Moscow: Entrgoatomizdat, 1988. — 95 p.
3 Kovarskiy, E. M. Test electric machine / E. M. Kovarskiy, Yu. I. Yanko. — Moscow: Entrgoatomizdat, 1990. — 320 p.
4 Usmanhodzhaev, N. M. Method of regulation single-phase condenser asynchronous engine speed / N.M. Usman-hodzhaev. — Moscow: Energy, 1980. — 116 p.
About this article
Authors:

Belousov A.A., Salikov M.P.



Year:

2013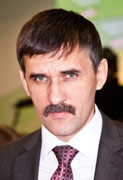 Editor-in-chief
Sergey Aleksandrovich
MIROSHNIKOV