Подача статей





Pimenov V.Yu.
THE CONCEPT OF THE GOD IN RUSSIAN PHILOSOPHY IN THE BEGINNING OF ХХ CENTURY: FROM THE GODSEEKING TO THE GODCONSTRUCTION
The God is not only theological, but also the sociocultural concept, setting а sense and direction of the historical process. In article on an example of the godseeking and the godconstruction it is shown that the concept of the God and a phenomenon of religion with growth of the secularization do not die off, but they find other senses, still remaining a matrix of the sociocultural dynamic, original language of the culture and the sphere of the solution of the difficult world outlook problems that rising against a society during the critical periods of its development.
Key words:
concept of the God, godseeking, godconstruction, sociocultural paradigm.
References:
1 Gorkiy, M. Complete Works in 25 volumes / M. Gorkiy. — M., 1971. — Vol. 9. — 587 p.
2 Lunacharskiy, A.V. Religion and socialism: 2 volumes / A. V. Lunacharskiy. — SPb., 1908. — Vol. 1. — 230 p.
3 Maxim Gorky: pro et contra. — SPb., 1997. — 901 p.
4 Shestov, L.I. On the scales of Job / L.I. Shestov // Works : 2 volumes. — Moscow, 1993. — Vol. 2. — 560 p.
About this article
Author:

Pimenov V.Yu.



Year:

2013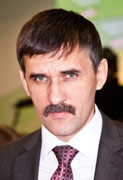 Editor-in-chief
Sergey Aleksandrovich
MIROSHNIKOV