Подача статей





Kashin V.V., Miroshnikova O.V.
ONTOLOGICAL FOUNDATION OF SOCIALIZATION
The paper addresses the difficulties and problems of modern watershed era, which raises the question of the Man, his nature and value of his work in social systems and in specific forms of self-activity of the Man as an individual personality, where the individual usually means a person as representative of the species Homo sapiens as certain single specimen of this species. Personality is defined as the dynamic organization of psychological systems and socio-genetic factors, which are rooted in the individual.
Key words:
people, person, individual, individuality, bio-social nature of the Man, the historical culture.
References:
1 Belinsky, V.G. Complete Works: 13 volumes / V.G. Belinsky. — Moscow: Publishing House of Academy of Sciences, 1953–1959. — Vol. 3.
2 Bunin, I.A. Great Datura / I.A. Bunin. — M.: Iris Press, 2004.
3 Gegel, G.W.F. Works: 14 volumes / G.W.F. Hegel. — Moscow: Publishing socio-economic literature, 1959. — Vol. 6.
4 Dostoevsky, F.M. Complete Works: 30 volumes / F.M. Dostoyevsky; Academy of Sciences, Institute of Russian literature (Pushkin House). — Leningrad: Nauka, 1976. — Vol. 3.
5 Ilyin, I.A. Bolshevism as a temptation and ruin / I.A. Ilyin // Our task: 2 volumes. — Moscow: Iris Press, 2008. — Vol. 1.
6 Cavelin, K. D. Our mental structure: Articles on the philosophy of Russian history and culture / K.D. Kavelin. — Moscow: Pravda, 1989.
7 Cantor, V.K. Personality notwithstanding / V.K. Cantor // Russian Journal. — 1998. — № 4, October.
8 Marx K., Engels F. Collected Works: 39 volumes / K.Marx, F.Engels. — Moscow: State Publishing House of Political Literature, 1955. — Vol. 3.
9 Samarin, Yu.F. Of the views of "Contemporary", historical and literary / Yu. F. Samarin // Selected Works. — Moscow: Moscow philosophical foundation: Rosspen, 1996.
About this article
Authors:

Kashin V.V., Miroshnikova O.V.



Year:

2013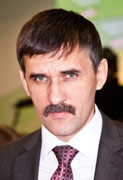 Editor-in-chief
Sergey Aleksandrovich
MIROSHNIKOV