Подача статей





Kuramshin E.M., Bogatova O.V., Nurtdinova E.E., Nikolayeva S.V.
STIMULATING FOOD SOURCE FOR BEE FAMILIES WITH A COMPLEX AMINO ACID AND PROBIOTIC PREPARATIONS
The defective food source leads to deficiency of aminoacids and it weakens a bee families. It is necessary to add in a forage of bees preparations filling deficiency of amino acids, vitamins, microcells, also, probiotics, forcing out rotten microflora after wintering.
Key words:
heavy metals, pollution, ecology, ekomonitoring, maximum concentration limit, morphology, biology.
References:
1. Akhatova, I.A. Milk horse-breeding: Pedigree work, technology of milk production and treatment. — Ufa: Gelem, 2001. — 324 p.
2. Kudryavtsev A.A., Kudryavtseva L.A. Clinical hematology of animals. — M.: Kolos, 1974. — P. 112–158.
3. Satiyev B.H., Makhmutov K.Z., Samokhvalov V.I. Horse-breeding in Bashkortostan. — Ufa, 2001. — 236 p.
About this article
Authors:

Nikolaeva S.V., Kuramshin E.M., Bogatova O.V., Nurtdinova E.E.



Year:

2012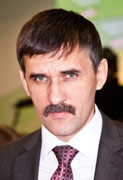 Editor-in-chief
Sergey Aleksandrovich
MIROSHNIKOV