Подача статей





Sycheva M.V., Galiullina L.F., Kartashova O.L.
THE INFLUENCE OF ANTIMICROBIAL PEPTIDES FROM PLATELETS OF FARM ANIMALS ON SENSITIVITY OF MICROORGANISMS TO ANTAGONISTIC ACTIVE OF REPRESENTATIVES OF NORMAL MICROFLORA
Influence of antimicrobic peptides from platelets of agricultural animals on sensitivity of opportunistic microorganisms to antagonistic active representatives of normal microflora is studied. It is established that acid extracts from platelets of agricultural animals increase sensitivity of opportunistic microorganisms to antagonistic active substances of bacteria of Lactobacillus, Esherichia and Enterococcus. The greatest change of a sign at clones E. coli, S. aureus and C. albicans at joint incubation bacteria with defensins isolated from platelets of horned cattle and hens is registred.
Key words:
cationic antimicrobial peptides, thrombodefensins, bacteria, antagonistic active substances, representatives of normal microflora.
References:
1. Ashmarin I.P., Vorobyov A.A. Statistic methods in microbiology. — L.: Gos.isd. med. lit., 1962. — 177 р.
2. Dyachenko, S.V. Pharmacoepidemiological basis of antibacterial therapy of common dieses. — Khabarovsk: GOU VPO DVGMU, 2010. — 402 р.
3. Kudlai D.G., Lihoded V.G. Bacteriocynogenity. — М.: Medicine, 1966. — 203 р.
4. Ponomarev S.V., Kubeskii E.N. A new approach for the therapy of patients with acute intestinal infections // Poliklinika. — 2003. — №3. — Р. 33–35.
5. Yakovlev V.P., Yakovlev S.V. Rational antibacterial therapy. — М.: Mir, 2008. — 1001 р.
6. Bradford, M.M. A rapid and sensitive method for the quantitation of microgram quantities of protein utilizing the principle of protein-dye binding // Anal. Biochev. — 1976. — Vol. 72. — P. 248–254.
7. Collins M.D., Gibson G.R. Probiotics, prebiotics, and synbiotics: approach for modulating the microbial ecology of the gut // Am. J. Clin. Nutr. — 1999. — V. 69, №5. — P. 1052–1057.
8. Tang Y.Q., Yeaman M.R., Selsted M.E. Antimicrobial peptides from human platelets // Infection and Immunity. — 2002. — Vol. 70, №12. — P. 6524–6533.
9. Jenssen H., Hamill Р., Hancock R.E. Peptide antimicrobial agents // Clinical Microbiology Reviews. — 2006. — Vol. 19, №3. — P. 491–511.
About this article
Authors:

Sycheva M.V., Galiullina L.F., Kartashova O.L.



Year:

2012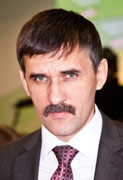 Editor-in-chief
Sergey Aleksandrovich
MIROSHNIKOV