Подача статей





Kalinin S.V., Zhadanov V.I., Ukrainchenko D.A., Lisov S.V.
FEATURES INTENSE THE DEFORMED CONDITIONS WOODMETALL OF BEAMS WITH THE WALL FROM STEEL PROFILID OF SHEETS
Results of numerical and pilot studies intense the deformed condition of woodmetall beams with a flexible wall from steel profilied sheets with longitudinal orientation gofred are given. Extent of inclusion of a wall in the general work of a design depending on design features and temperature vormplase influences taking into account a pliability of fastening of a wall to a wooden framework is investigated.
Key words:
a woodmetall beam, a wall, a profilied leaf, numerical researches, experiment, intense the deformed condition, durability, tension, deformations, a design procedure.
References:
1. Patent Russian Federation for the invention No. 2276239. MPK E 04 C 3/07. Beam / P.A. Dmitriev, V.I. Zhadanov, S.V. Kalinin. Opubl. 10.05.06. Bulletin №13. — 6 p.
2. Zhadanov V.I., Kalinin S.V. Woodmetall beams with a thin flexible wall and designs on their basis // Modern construction construction from metal and wood. — 2005. — Part 2. — P. 40–44.
3. GOST 24045-90. Profiles steel sheet bent with trapezoid gofred for construction. 1984.: IPK Standards Publishing House, 2004. — 24 р.
4. Joint venture 64.13330.2011. Set of rules. Wooden designs. Realliti edition II-25-80 Construction Norms and Regulations. — M.: JSC TsPP, 2011. — 141 p.
About this article
Authors:

Kalinin S.V., Zhadanov V.I., Ukrainchenko D.A., Lisov S.V.



Year:

2012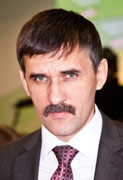 Editor-in-chief
Sergey Aleksandrovich
MIROSHNIKOV