Подача статей





Eretin A.V.
THE PROBLEM OF HARD CONNECTIONS OF HUMAN FACTOR AND DESIGN
Based on the study of theoretical and empirical research sources, indicating the existence of strong correlates of events, producing a perfect individual and the activities of particular people (ethnic group) developed an orderly system of transition information in cultural psychology, and vice versa. Founded the place and role in the process of information sharing structural and geometric modeling engine space of the simplest objects of nature.
Key words:
man, individual, team, the psychological and cultural exchange, mutagenesis, the geometry of the engine space, ergodesign.
References:
1. Halperyn, P.Ya. Lectures on psychology. — Moscow: Book house "University": Hight school, 2002. — 400 p.
2. Humilev, L.N. Ethnogenesis and the Biosphere. — Moscow: Rolf. 2002. — 560 p.
3. Zavalova N.D., Lomov B.F., Ponomarenko V.A. The image in the regulation of mental activity. — Moscow: Science, 1986. — 176 p.
4. Kalinicheva M.M., Dzherdev E.V., Novikov A.I. The Scientific School of ergodesign VNIITE: conditions, sources, trends in development: monograph. — Moscow: VNIITE, Orenburg: IPK GOU OGU, 2009. — 368 p.
5. Cantor, K.M. Design system of the world, culture, history // Decorative Arts. — 2001. — №1. — Р. 41–46.
6. Petuhov, S.V. The geometry of nature, and self-organization algorithms. — Moscow: Knowledge, 1988. — 48 p.
7. Pre ergonomic simulation: Toolkit. — Moscow: VNIITE, 1980. — 93 p.
8. Puzanov, V.I. The interaction of intelligence and skill as a problem of cultural formations in the design: Doctor of Arts Thesis. — Moscow: VNIITE. 1992. — 32 p.
9. Sergeev, G.A. Biorhythms and the Biosphere. — Moscow: Knowledge, 1978. — 98 p.
10. Tasalov, V.I. Art's energy of light. Essays on the Art of the theoretical. — St. Petersburg: Publishing house "Dmitry Bylanin", 2004. — 464 p.
11. Schrodinger, E. What is life? From the standpoint of physics. — Moscow: Atomizdat, 1972. — 88 p.
12. Ergodesign for industrial products and object-spatial environment: textbook for university students studying specialtys "Design", "Ergonomic" / Edited by V.I. Kulaikin, L.D. Chainova. — Moscow: Publishing Center for Humanities VLADOS, 2009. — 311 p.
About this article
Author:

Eretin A.V.



Year:

2012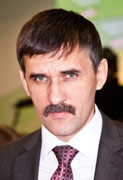 Editor-in-chief
Sergey Aleksandrovich
MIROSHNIKOV